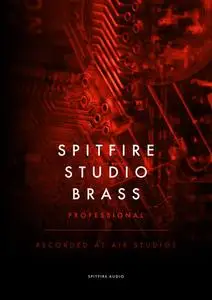 Spitfire Audio - Spitfire Studio Brass Professional KONTAKT | 104 Gb
Spitfire Studio Brass is the second release in our vital all-new Spitfire Studio Orchestra range. Two years in the making, our ambition was to create an incredibly versatile pro-end, dry-stage sample library. By choosing the crisp and vibrant setting of AIR Studio One, a smaller, more controllable space than the opulent Lyndhurst Hall, we offer our fellow composers a brass library with depth, detail, and awesome punch. This is a full gathering of the brass family, including less frequently heard relatives such as bass trumpet, contrabass tuba, and cimbasso. Epic power is on tap, but it comes with the grace and pinpoint detail of the dry stage. Spitfire Studio Brass Professional captures the widest emotional range of performance, with abundant articulations. Choose solo, duet, or section performances; realise the detail of your music with swells, flutter tongues, and staccatissimo stabs as well as traditional articulations; choose from microphones placed super-close to the player, through to outriggers and ambients at the edges of AIR Studio One - or mix and match for absolute tonal control.
Studio Brass is the second section of our new Studio orchestral libraries, two years in the making. It has all the treasured Spitfire hallmarks: A-list London session players, the best instruments and an unparalleled signal path recorded to tape by Grammy award-winning engineer Simon Rhodes - in a room perfectly suited to capturing the punchy dynamic range of brass. As with our existing symphonic and chamber ranges, we have applied a "no stone unturned" approach: an encyclopaedia of articulations, dynamic layers and round-robins for seamless, nuanced realism. Spitfire Studio Brass offers you 8 instruments, including 4 soloists, plus two player sections - all recorded through a Schoeps Decca Tree. Studio Brass Professional offers you all of this, but lets you delve further, with 17 instruments - from a soaring piccolo trumpet, down to the volcanic contrabass tuba. There are 13 solo instruments, including two separate solo trumpet players and two horn players. Extensive control of the sound is available, with the inclusion of two ready-to-go mixes, two close-mic arrangements, two Decca tree setups, ambients and outriggers. You can access and personalise your own mix of Simon's microphone armoury - from pin-sharp to super-wide, picked up by the best from Neumann, Schoeps, Sennheiser and SE Electronics.