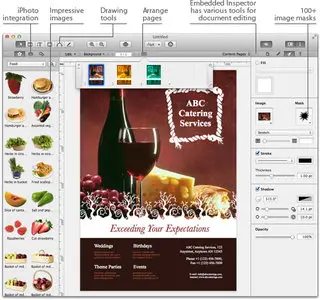 Swift Publisher 3.3.2 | Mac Os X | 102 MB
Do you need a sleek solution for designing and printing promotional fliers, club newsletters, social announcements, and similar documents? Then Swift Publisher, our desktop publishing app for Mac, can deliver. Packing a streamlined interface and powerful layout and design tools, Swift Publisher provides all of the tools you need to create effective materials for your clients, partners, and friends. Fliers, brochures, letterheads, booklets, menus, and more, right on your Mac.
All Features of Swift Publisher
Graphics
Over 180 professionally designed templates for different types of documents (flyers, letterheads, brochures, newsletters, catalogs, etc).
1,000+ clipart images (40,000+ clipart images with Extras Pack).
More than 100 unique masks, as well as the ability to use a custom image as a mask.
Smart Shapes with controllable behavior.
Integration with iPhoto and Aperture.
Export your work to TIFF, JPEG, EPS and PDF.
Load graphics from your computer or network.
Apply Mac OS X Core Image filters to your images.
Powerful Publishing Tools
Flow text from column to column or to another page entirely.
Take advantage of wrapping text around objects in real time.
Support for multi-page documents with the ability to rotate each one on a fly.
The page thumbnails panel allows you to easily manage pages.
The master pages option allows you to create common background for several pages (for page numbering, heading, background picture, etc.).
Take control over line and character spacing as well as paragraph indention.
Create a text list with a variety of bullets.
The Text to Curve feature lets you transform the document into a vector image, which will help avoid problems with font absence when you send a document to a printshop.
Add as many layers as you wish and choose to make them invisible or non-printable.
Background and Foreground layers help to create and edit advanced designs.
Adjustable layout guides are used for precise object placement.
Imposition option in the print dialog to arrange brochure pages automatically.
Easy Graphics and Text Editing
100 additional fonts (Extras Pack only).
Art Text integration to create high quality textual graphics, headings, logos, icons, web banners and buttons.
Calendar Editor for creating personalized calendars.
Vertical Text tool.
Draw free hand shapes using the spline drawing tool.
Control transparency, rotate and fill text blocks with colors.
Both linear and radial gradient fills.
Flexible control over text block to change spacing and size.
Apply unique styles to text and paragraphs.
Insert images in many supported formats — TIFF, JPEG, GIF, PDF, EPS and more.
Tint, tile, control transparency and rotate images.
Crop, tint, tile, rotate images and control transparency.
Make use of adjustable shadows.
Select multiple objects with the opportunity to resize and rotate them as a single item.
An option to fill Smart Shapes with pictures and make creative frames for your photos.
Tables support (cells can contain text and graphics).
Smart guides help to align objects in respect to each other.
Use Pan tool to scroll the document.
Use Check Spelling to avoid misprints.
Spotlight support.
System Requirements:
Mac OS 10.6.8 or higher, Intel only Mac. Mac OS X 10.8 Mountain Lion compatible.