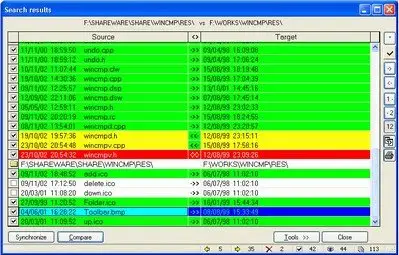 Synchronize It 3.5.1698 | 1.55 MB
Primary targeted to help in team software development, it will be useful for anyone, who shares documents/programs with friends and colleagues. Do you have to synchronize data between home and office or desktop and notebook computers? With Synchronize It! you can easily see what have changed in your folders and transfer changes with single mouse click. Moreover, Synchronize It! now supports various archive types, so you can use it as powerful backup solution. Although there is a lot of such programs on the market, Synchronize It! has some unique features, listed below.
Features:
• Multilingual interface;
• Customizable configs, projects, filters, colors - almost everything!
• Ability to change copy direction or delete files;
• Internal binary compare option to ensure files are same;
• Date filter helps to find files you changed recently;
• Support for user tools for comparison, viewing, archiving;
• Archives synchronization;
• Can run from command line options, including unattended mode;
• Easily integrates in your file manager;
• Comfortable navigation in file list, including mask selection & search;
• Color emphasis for different files;
• Log file support;
• Drag and Drop support from file list;
• Does not change your registry, making it's easy to install, move or delete;
• Multiple users support;
• Context help;
WEB:
http://www.grigsoft.com/winsin.htm