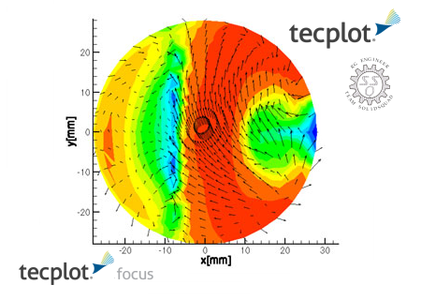 Tecplot Focus 2021 R1 (2021.1.0.113954) | 582.9 mb
The Tecplot development team is pleased to announce the availability of Focus 2021 R1 Build 2021.1.0.113954 is a powerful tool for visualizing a wide range of technical data. It offers line plotting, 2D and 3D surface plots in a variety of formats, and 3D volumetric visualization.
Tecplot Focus 2021 R1 - Release Date: May 12, 2021Enhancements and Bug Fixes
- Fixed crash when using $!CreateSliceFromPlane when the slice position passes through a region with no data.
- Fixed crash when clicking on a slice or iso-surface after Data Alter error.
- Style is no longer lost when adding zones to existing Strand Ids (e.g. using the Edit Time Strands, Axial Duplicate, Duplicate Zones dialogs).
- Fixed menu access for Key Frame and GUI builder dialogs on Mac.
Tecplot Focus
is engineering plotting software with extensive XY, 2D and 3D capabilities. It is designed more for measured field data, performance plotting of test data, mathematical analysis, and engineering plotting in general. Tecplot Focus is based on Tecplot 360 EX, Tecplot's flagship visualization product, and has much of the same power. One of the key differentiators between Tecplot Focus and Tecplot 360 is that Tecplot Focus does not support CFD data formats, CFD analysis, and transient data.
Tecplot Focus 2021 R1 has many of the improvements of Tecplot 360 2021 R1, with a few exceptions.
Using MATLAB & TecIO to Read/Write Tecplot Data File Formats
An operating company of Toronto-based Constellation Software, Inc. (CSI),
Tecplot is the leading independent developer of visualization and analysis software for engineers and scientists. CSI is a public company listed on the Toronto Stock Exchange (TSX:CSU). CSI acquires, manages and builds software businesses that provide mission-critical solutions in specific vertical markets.
Product:
Tecplot Focus
Version:
2021 R1 Build 2021.1.0.113954
Supported Architectures:
x64
Website Home Page :
www.tecplot.com
Language:
english
System Requirements:
PC / Linux / macOs *
Size:
582.9 mb
Platform Support Changes
The 2021 R1 release will be supported on the following platforms:

- Windows 10
- Ubuntu 18.04 LTS, 20.04 LTS
- SUSE Linux Enterprise Desktop (SLED) 15
- RedHat 7.5+, 8.0+- CentOS 7.5+, 8.0+
- Mac 10.14, 10.15, 11

Previously supported platforms that will not be supported by the 2021 R1 release:
- Ubuntu 16.04 LTS (end of life April, 2021)
- CentOS & RedHat 6 (end of life November, 2020)

System Requirements
2GHz (64-bit) Processor
850 MB disk space and 4 GB RAM
Minimum display resolution of 1024 x 768
OpenGL accelerated graphics card
Please visit my blog
Added by 3% of the overall size of the archive of information for the restoration

No mirrors please