The Foundry Nuke - program for creating special effects in film and video. The program used to create special effects in many movies, including King Kong and the day after tomorrow, as well as in hundreds of commercials and music videos. The program used for editing videos and stage images (sikventsy). It is used in processing, the imposition of effects, final assembly, etc. filmed video, film material, to create commercials, as well as for other tasks.
Updated 25/01/2010:
* Updated version of The Foundry Nuke to 6.0.1;
* Updated license file setups, patches, and PDF documents.
Year: 2010
Version: 6.0.1
Developer: The Foundry Visionmongers Ltd
Platform: x32/x64
Compatibility with Vista: complete
Language: English only
Tabletka: Present
System requirements:
Windows XP, Windows Vista (x32/x64)
5 gigabytes of disk space for caching temporary files.
512 megabytes of RAM.
Contents:
* Nuke 6.0.1
* NukeX 6.0.1
* Furnace 4.2.1
* Keylight 2.1.2
* Ocula 2.0.1
* RollingShutter 1.0.1
* Tinder 1.3.1
* Tinderbox1 2.1.1
* Tinderbox2 2.1.1
* Tinderbox3 2.1.1
* Tinderbox4 2.1.1
* PDF documents
Screenshot: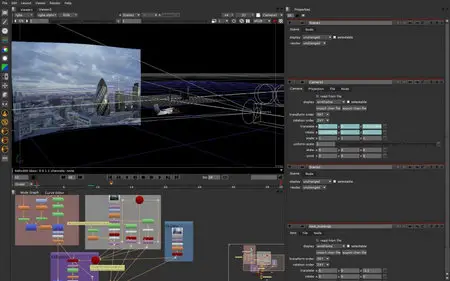 Download:
http://hotfile.com/dl/25632421/a8cc1c3/TheFoundryNuke6.0.1.part1.rar.html
http://hotfile.com/dl/25632480/5d575f6/TheFoundryNuke6.0.1.part2.rar.html
http://hotfile.com/dl/25632462/42a06a2/TheFoundryNuke6.0.1.part3.rar.html
http://hotfile.com/dl/25632454/b151daa/TheFoundryNuke6.0.1.part4.rar.html
http://hotfile.com/dl/25632685/127d634/TheFoundryNuke6.0.1.part5.rar.html
http://hotfile.com/dl/25632594/8a03285/TheFoundryNuke6.0.1.part6.rar.html
http://hotfile.com/dl/25632780/e7333dd/TheFoundryNuke6.0.1.part7.rar.html

Mirror:
http://uploading.com/files/m7539395/TheFoundryNuke6.0.1.part1.rar/
http://uploading.com/files/9daffm68/TheFoundryNuke6.0.1.part2.rar/
http://uploading.com/files/e4fd1a8e/TheFoundryNuke6.0.1.part3.rar/
http://uploading.com/files/4c29cfa6/TheFoundryNuke6.0.1.part4.rar/
http://uploading.com/files/9daf9159/TheFoundryNuke6.0.1.part5.rar/
http://uploading.com/files/a5235ea1/TheFoundryNuke6.0.1.part6.rar/
http://uploading.com/files/2582bb55/TheFoundryNuke6.0.1.part7.rar/

Mirror:
http://sharingmatrix.com/file/1184046/TheFoundryNuke6.0.1.part1.rar
http://sharingmatrix.com/file/1184047/TheFoundryNuke6.0.1.part2.rar
http://sharingmatrix.com/file/1184048/TheFoundryNuke6.0.1.part3.rar
http://sharingmatrix.com/file/1184049/TheFoundryNuke6.0.1.part4.rar
http://sharingmatrix.com/file/1184050/TheFoundryNuke6.0.1.part5.rar
http://sharingmatrix.com/file/1184051/TheFoundryNuke6.0.1.part6.rar
http://sharingmatrix.com/file/1184052/TheFoundryNuke6.0.1.part7.rar

Mirror:
http://freakshare.net/files/c81cvpr7/TheFoundryNuke6.0.1.part1.rar.html
http://freakshare.net/files/48yohap4/TheFoundryNuke6.0.1.part2.rar.html
http://freakshare.net/files/hc675oab/TheFoundryNuke6.0.1.part3.rar.html
http://freakshare.net/files/cky78hbr/TheFoundryNuke6.0.1.part4.rar.html
http://freakshare.net/files/gvs33nwn/TheFoundryNuke6.0.1.part5.rar.html
http://freakshare.net/files/8p3zldoa/TheFoundryNuke6.0.1.part6.rar.html
http://freakshare.net/files/fzyzgk36/TheFoundryNuke6.0.1.part7.rar.html

Mirror:
http://extabit.com/file/28x9412brocxi
http://extabit.com/file/28x9412bro9ti
http://extabit.com/file/28x9412brocw6
http://extabit.com/file/27a1y36gls95d
http://extabit.com/file/27a1y36gls94h
http://extabit.com/file/27a1y36gls935
http://extabit.com/file/27a1y36gls95t

Mirror:
http://rapidshare.com/files/340602607/TheFoundryNuke6.0.1.part1.rar
http://rapidshare.com/files/340602319/TheFoundryNuke6.0.1.part2.rar
http://rapidshare.com/files/340602487/TheFoundryNuke6.0.1.part3.rar
http://rapidshare.com/files/340603009/TheFoundryNuke6.0.1.part4.rar
http://rapidshare.com/files/340603123/TheFoundryNuke6.0.1.part5.rar
http://rapidshare.com/files/340602618/TheFoundryNuke6.0.1.part6.rar
http://rapidshare.com/files/340602022/TheFoundryNuke6.0.1.part7.rar