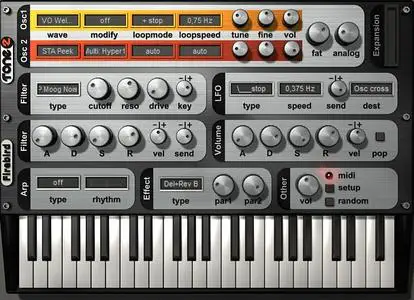 Tone2 FireBird v2.1.0 WiN | 9 Mb
FireBird was created in 2004. It's more powerful successor Gladiator is one of the most popular synthesizers ever. After 13 years of faithful service, Firebird has become vintage and is not longer profitable to remain a commercial product. However, we feel that more people should get an opportunity to enjoy this frequently underestimated synth. That's why we decided to turn the product into freeware. We want to say a big THANK YOU to all, who funded the development of the current Tone2 products, by purchasing our software. Feel free to share Firebird 2 with your friends. We hope you'll enjoy working with Firebird for many more years.
Unique & innovative
Firebird is not just another substractive synthesizer, it uses an innovative synthesis architecture to deliver unique sounds. The interface is very easy to use and allows you to create interesting patches with minimal effort. FireBird comes with 437 build-in sounds.
Harmonic Content Morphing (HCM) synthesis
Harmonic Content Morphing synthesis is also used in FireBird's much more powerful successor Gladiator. It is based on a large range of standard waves, such as saw, pulse, as well as more complex wave material, like multi-waves, trumpets, organs, pads, pianos and voice samples.
These waves are modified by special algorithms, which can alter the harmonic structure. FireBird allows 84 different morphable oscillator types. Furthermore, 23 spectral manipulations or "modifiers" can be applied to the oscillators. A fat knob doubles or quadruples the number of oscillators giving up to 8 oscillators per voice.
FireBird comes with 38 different sounding filter types, such as Low-pass (6-40dB), Analog, Vocal, Phaser, Comb, EQ, FM, AM, Re-sample, Elliptic and so on.
The synthesizer offers 13 different effect types. The effects-section has several reverb and tab-delay variations, chorus, ensemble, flanger, and rotary effects as well as combinations. A simple arpeggiator is also included.
Features:
Very easy to program and easy to use
Uses an innovative synthesis: Harmonic content morphing (HCM)
437 presets included
84 morphable oscillator types
38 filter types
True stereo mode, 4x unison mode
23 spectral manipulations 'modifiers' can be applied to the oscillators
Arpeggiator
13 effect types
Skin-able user interface
HAPPY NEW YEAR!!!

* Blacklisted keyfiles deletion has been removed!

The difference since our last FireBird v2.1.0 release in 2014:

* Unpacked from PECompact3, loads faster and uses less memory.

Just for fun, and avoid the conspiracy "R2R cannot unpack PECompact" :)
Tagged as INTERNAL becaues our last release is ok!