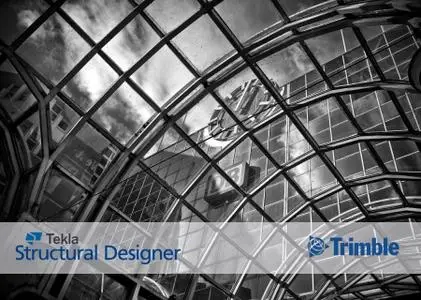 Trimble Tekla Structural Design Suite 2020 SP6 Update | 185.3 mb
Trimble introduced the update (SP6) of its Tekla Structural Designer Suite 2020, is software that gives engineers the power to analyze and design buildings efficiently and profitably. This update includes a number of enhancements and issue resolutions.
Release notes: Tekla Structural Designer 2020 SP6
This release will update your Tekla Structural Designer installation to version number 20.0.6.29 and should be installed to ensure optimum function of the program. It includes a number of new features, enhancements and issue resolutions as detailed below.
- [TSD-8551] - Seismic Design - Steel Columns - USA Head Code - this issue relates to the the design of steel columns assigned to Seismic Force Resisting Systems (SFRS) to the seismic provisions of the 2016 version of AISC 341 (years 2005 and 2010 were not affected). In some circumstances the expected seismic axial force amplification for the axial strength check of section D1.4a was not applied which could result in an unconservative design. For more information please see Product Bulletin PBTSD-2101-1.
This issue is fixed in this release.

- [TSD-8637] - Concrete Beam Design - British Standards (BS) Head Code (all countries) - the overall deflection check design status was always that of the last load combination instead of the most critical from all combinations. Therefore, in the most extreme case, this check could fail for one or more load combinations but the beam would still be marked as passing if the last combination had a passing status. For more information please see Product Bulletin PBTSD-2101-02.
This issue is fixed in this release.
Highlights

- Review View - Design Status Enhancements
- Material List Enhancements
- Review View - Show/Alter State Reinforcement command extended to Isolated Foundations

- A number of additional fixes which are not detailed explicitly here are also made to improve general performance and stability. An example of this is given directly below:
. [TSD-8382] - Analysis - A memory corruption issue has been fixed that could cause the analysis process to abort and/or the program to force close unexpectedly for some models that included short beam spans with partially fixed ends.

- [TSD-7317] - Keyboard Functions - new keyboard shortcuts have been added Z1, Z2 and Z3 to zoom to a 1-3m area around the current cursor location. These new shortcuts compliment the existing ZA and ZS shortcuts - for more on these and others see the Help topic Keyboard shortcuts.
. Use the shortcuts as follows; first locate the cursor where you want to zoom, then press the "Z" keyboard key, followed by the "1","2" or "3" keyboard number key.

- [TSD-8043] - Connections - when a model has been populated with connections (see the Help topic Design connections for how to do this), they are now shown graphically in construction plane (Levels, Slopes and Frames) and sub model views.
- [TSD-7851] - Grasshopper - Tekla Structural Designer Live Link - the Slab component in the Grasshopper plugin has been enhanced to allow creation of the previously released General material slabs. For more information about this feature see the article Grasshopper - Tekla Structural Designer Live Link. Please note the following:
. This enhancement requires the installation of the new Grasshopper plugin specific to this release. This can be obtained from the Tekla Warehouse.
. In existing scripts, the user can replace the old slab component with the new one to make use of the new parameters.

- [TSD-8557] - Export to One Click LCA - changes have been made to the format of the exported data to improve data mapping in One Click LCA. Also data exported from US Customary unit models is now in Metric units, since One Click LCA does not support the use of US Customary units for the uploaded data. For more about this feature see the Help Topic Export to One Click LCA.

- [TSD-8361] - BIM Integration - Revit - Column Splices - improvements are made in this release to the way in which splices added in the BIM application (i.e. in Revit) are handled before updating the Tekla Structural Designer model. Some situations that were causing this process to behave unexpectedly have been identified and the following enhancements made to improve this:
. If one or more stacks are excluded from the update process (BIM status = Exclude in Tekla Structural Designer model) then we shall exclude the whole column
. [TSD-8495] - Update messages have been improved to ensure they are associated with an object in the Tekla Structural Designer model.
.. Note that there is one related outstanding issue when round tripping Tekla Structural Designer > Revit > Tekla Structural Designer without making any changes that may cause confusion. This can cause erroneous "Position Update" messages for some of the column stacks in Tekla Structural Designer when splices with offsets exist.
- [TSD-8428] - Load Decomposition - an issue is fixed that could cause some slab loads to not be decomposed correctly in the rare circumstance of models with only one decomposition plane (i.e. no other planes at all with loaded slab/roof panels) which included 1-way spanning slabs supported by 2-way spanning slabs. This issue relates only to release 2020 SP4 (v 20.0.4.55 released Sept 2020) - in which it was introduced - and later.
. This issue has only been encountered internally and we expect it is highly unlikely customers will have, given its unusual conditions. We would note also that it would be very clear if the issue occurred and resulted in any significant missing load, as it would be flagged by all of; a decomposition warning "Some loads have not been applied > Load LL xx lies outside of panels"); a warning in the Process Window "Total reactions vs Applied loading do not balance" and errors for the affected load case(s) in the Project Workspace > Loading Window.
Head Code US

- [TSD-8415] - Concrete Design - Beams - the deflection check has been corrected so that it now compares the position of the neutral axis to the depth to the compression surface reinforcement, identifying if this reinforcement lies in the compression zone and a decision is then made by the program if its beneficial effect should be considered in the calculation of the long term additional deflection multiplier.

- [TSD-1298] - Seismic Design - Steel Braces - for the 2010 and 2016 years of the AISC 360/341 steel resistance code, tension only braces are not permitted for the Seismic Force Resisting System (SFRS) type Special Concentric Braced Frame (SCBF - as directed by the design code). In this release new validation is added to check for this circumstance and a Validation error "Tension only brace not permitted in SCBFs" is issued when this is the case.
. Tension only braces are permitted in both OCBFs and SCBFs for the 2005 year of the AISC 360/341 steel resistance code, and OCBFs only for the 2010 and 2016 years of the code.

- [TSD-4146] - Steel Beam Design - Torsion - for the Torsion Combined Forces check, in some situations the wrong flange was considered when determining the laterally unbraced length used for the calculation of the critical stress Fcr,bx when governed by LTB. This could produce an incorrect failure status for the check when the laterally unbraced length of the bottom flange was incorrectly used for positive bending moment + torsion in beams with the top flange either fully or partially restrained. This issue is fixed in this release.
- [TSD-8532] - Reports - as detailed above, many Material Listing tables have been enhanced with additional columns, making them wider. To assist with their effective display in reports, new automatic Landscape table orientation is introduced in this release (applies to all report tables). This is controlled by a new setting Report Settings > Table Options > "Use landscape orientation for wide tables" as shown in the picture below. When enabled (default) the report page orientation will automatically change to landscape mode when the table header will not fit in portrait orientation.
. Note that you can reduce the need for landscape orientation and number of pages by; reducing page margins (default values may be quite wide); increasing the allowable table width from 90 to 95% of the available width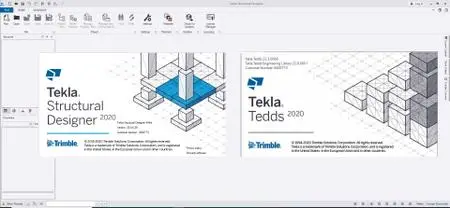 Tekla Structural Designer
delivers powerful features for optimizing concrete and steel design, including the ability to quickly compare alternative design schemes, efficiently manage changes and collaborate seamlessly. Regardless of project size or complexity, Tekla Structural Designer's fully automated, productivity-enhancing capabilities enable engineering firms to improve operations, successfully bid more projects and enhance client service.
Tekla Structural Designer 2020 structural analysis and design software introduces data-driven design with a new direct link between Tekla Structural Designer and algorithmic modeling plugin Grasshopper, enabling quick and easy exploration of different early-stage design alternatives.
Modeling has never been easier with Tekla Structural Designer. From modeling in 3D or 2D views, to duplicating levels and several built-in tools, Tekla Structural Designer allows you to quickly model any structure. Watch this short video to learn more about some of the tools that will speed up your modeling time.
Tekla Tedds
is powerful software developed to meet the needs of the structural engineering workflow and designed to help you automate your repetitive structural calculations. Choose from one or more of our regularly updated calculation libraries or write your own, and create professional documentation every time. Combine your structural calculations with 2D frame analysis.
Tekla Tedds 2020 structural analysis and design calculation software offers further integration with Tekla Structures and Tekla Structural Designer for convenient design management across both solutions. With enhanced integration, Tekla Tedds calculation can be automatically associated with a variety of Tekla Structures and Tekla Structural Designer objects.
This video demonstrates the Tekla Tedds Integrator for Tekla Structures. The Tekla Tedds Integrator is a Tekla Structures Extension which adds features for linking Tekla Tedds calculations to the objects in a Tekla Structures model. Tedds includes a built-in library of structural engineering calculations which can be used to produce high quality calculation documentation for a wide variety of structural building elements which are compliant with a range of regional design codes. The Tekla Integrator can also be used to link user written custom calculations.
Tekla software solutions
for advanced BIM and structural engineering are produced by Trimble. Trimble's construction offering ranges from total stations to advanced software, giving the industry tools to transform planning, design, construction and operation of buildings. Tekla software is at the heart of the design and construction workflow, building on the free flow of information, constructible models and collaboration.
Product:
Tekla Structural Design
Version:
2020 SP6 Update *
Supported Architectures:
x64
Website Home Page :
www.tekla.com
Language:
english
System Requirements:
PC **
Software Prerequisites:
Tekla Structural Design Suite 2020 and above
Size:
185.3 mb
- Tekla Structural Designer version 20.0.6.29 Update,
- Tekla Tedds version 22.3.0000 Update
Tekla Structural Designer 2020 hardware recommendations.

System requirements for effective operation

CPU: Multi core Intel i5 Series or above, Xeon or AMD equivalent
- Highest affordable performance recommended.

Memory: 16GB (32GB or more recommended)
- Memory requirements are highly dependent on model content.

OS: 64-bit Microsoft Windows 8.1 / 10
- Operating systems must be running the latest service packs / updates.

Graphics: 1600 x 900 resolution (1920 x 1080 or higher recommended)
- 1GB or higher of dedicated RAM.
- Utilizes HOOPS Visualize, a third party graphics engine available from Tech Soft 3D. To check your adapter's compatibility visit the HOOPS developer website for HOOPS 20.x, DirectX and OpenGL requirements.

Disk space: 1GB or more of free space for installation
- Operational disk space requirements are highly dependent on model content.

Internet connection: Required for access to Online Services and some documentation.

License Service:
- Tekla Structural License Service 3.00 including Sentinel RMS 9.5

License Server: The latest version of the Tekla Structural Licence Service, at time of release, is shipped and installed with the software. If you have chosen to have a separate licence server, it is always our recommendation that you also run the latest version of the Tekla Structural License Service on it to ensure compatibility. Please see System Requirements for specific version details.

Test environments

The application is tested and supported on the following business versions of Microsoft Windows with the latest updates applied:

- Windows 10 64-bit
- Windows 8.1 64-bit
Tekla Structural Design Suite 2020
Please visit my blog
Added by 3% of the overall size of the archive of information for the restoration

No mirrors please