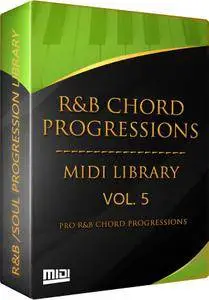 Tru-Urban The R and B Chord Progressions Vol 5 WAV MiDi | 22 Mb
The R&B Chord Progression MIDI Library Vol.5 gives you instant inspirations with AUDIO and MIDI files containing beautiful urban chord voicings perfect for R&B, Soul and R&B/Hip Hop crossover music. Contains original and unique chord progressions for R&B production!
Details:
• Improve your productions with proven R&B/Soul, Hip-Hop and Pop chord progressions / chord voicings.
• Get instant inspiration for new songs/beats/productions
• Free yourself creatively to produce and re-produce amazing music
• Learn to play R&B, Soul, crossover chords and chord progressions
• 32 AUDIO and MIDI Files total, 2 Folders total. Audio and MIDI files included for each progression.
• 100% Royalty Free to use in your own music productions… Mix and match chords to create new songs.