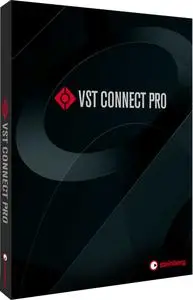 VST Connect Pro v5.5.0 WiN | 102 Mb
VST Connect Pro is a fully featured, remote recording solution that lets anybody record a voice talent, musician or other performer in professional quality, regardless of where each sof them is on the planet.
• Record up to 16 channels at up to 192 kHz
• MIDI and VST3 support
• Transfer uncompressed audio files
• Includes cue mix section for optimal recording
Music with no boundaries
VST Connect Pro lets you expand your studio from its physical location to cover the whole world. It allows any musician with a computer, an internet link and the free VST Connect Performer app to be recorded direct on your studio DAW, even if they are on a different continent, because VST Connect Pro makes distance irrelevant. Not only that, but you can see and talk to each other, while the producer has full control over the recording session at both ends of the connection, including cue mix and talkback level.
Multitrack Recording For Musicians
No matter where the performer is, record remotely in real time and the uncompressed audio files are loaded automatically in the background. You never need to worry about the internet connection — all VST Connect Performer HD recordings are saved on the musician's local hard drive and can be reloaded into VST Connect Pro at any time. And you don't have to be worried about security, as the unique data encryption system makes sure that your work will always stay yours.
MIDI around the world
VST Connect Pro allows you to record MIDI and audio data live from a VST instrument loaded into VST Connect Performer, anywhere in the world. The artist can even connect a MIDI controller, leaving the session admin to record the incoming MIDI data directly in Cubase, together with the audio stream from the VST instrument.
It also works both ways - send MIDI data from your Cubase project, via VST Connect, to any MIDI compatible instrument or VST instrument connected to a remote instance of VST Connect Performer and record the incoming audio signal.