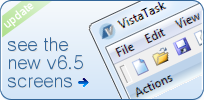 VistaTask v6.53 | 7034 Kb
VistaTask® (also known as VistaRunner) is an automation tool for Microsoft Windows®. It can control every aspect of your computer, such as the mouse, keyboard, and web actions, without needing to write any programming code. VistaTask is useful for performing many different types of jobs on your computer, and provides significant productivity gains in areas such as software quality assurance testing, IT administration jobs, repetitive data entry, or recurring internet tasks. It offers easy Windows automation, while still providing advanced features such as data-driven scripts, image masking, and an EXE compiler. Best of all, these powerful features are accessible through VistaTask's simple and clear XML files.
Current software automation tools are too complex, and definitely too expensive. It shouldn't be necessary to learn a new programming script language just to automate a basic task or test software. It takes fewer steps and less time to create new automation jobs in VistaTask than in any competing product. Try out the fully functional download and see if you agree!
Here are some key features of "VistaTask":
· Full Windows GUI Automation (mouse, keyboard, menus, windows, etc.)
· Recording and Playback
· Logging of Test Results
· File, Registry, and SQL Database Access
· Checkpoints, Loops, and Jumps
· User-defined Variables
· Conditional Logic, Complex Math Calculations
· Data-driven Scripts
· XML File Format, Custom XSL Reports
· Requires no frameworks to be installed
· Ability to compile Scheduled tasks into an EXE
· Image-based Mouse Actions + Masking
· Direct Win32 API Access (without plug-ins)
· Create Standalone EXE Programs (which are freely distributable)
Version 6.53:
- This update includes fixes for various issues that were discovered in version 6.5x based on user feedback.
New Features:
* New Feature: The Output window now supports all copy and cut editing options
* New Feature: Updated right-click menu in Output window
Fixes:
* Fix: Additional corrections to the TYPE command for extended-ASCII characters
* Fix: Added registry key for changing priority of background processing from IDLE_PRIORITY_CLASS
Home Page: h**p://www.vista-software.com/
DL:
http://www.fileforwarding.com/index.php?mode=viewupload&id=10940