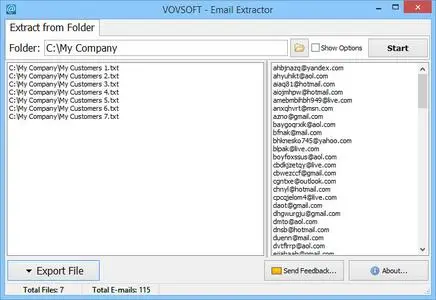 VovSoft Email Extractor 1.2 | 3.5 Mb
Sometimes we need to grab e-mail addresses from files. It can be hard work to browse all the folders and scrape the e-mails. Fortunately there are e-mail extractor solutions around.
Vovsoft Email Extractor is one of the best programs that can harvest e-mail addresses. You can recover in seconds all your customer e-mail addresses from files. Once installed, you can start the application and begin searching for e-mails almost immediately. You only need to provide a directory, as the program can take care of the rest.
Please note that collecting e-mail addresses or sending e-mail messages without permission is not acceptable. In this case, your messages can be detected as SPAM and your domain name can be blacklisted.
Operating System:
Windows 10/8.1/8/7/Vista/XP
Home Page
-
https://vovsoft.com/