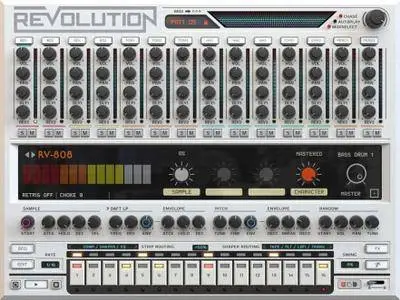 Wave Alchemy Revolution v1.1 KONTAKT UPDATE | 1 Gb
Imagine the dream of owning a studio filled with the most influential Drum Machines of our time. Imagine having instant access to the TRUE authentic sound of the iconic TR-909, 808, 606, 707, CR-78, Linndrum, Drumtraks, Drumulator, OB-DX and many others. Imagine a world where this dream becomes reality.
Revolutionize your studio
Revolution - The most authentic virtual drum machine plugin ever created. Revolution is a deeply produced Drum Machine faithfully delivering 14 of the world's most iconic Drum Machines directly to your DAW, inside a single ground-breaking virtual instrument. For the first time ever, a plugin delivers the true sound of the most influential Drum Machines of our time – 808, 909, 606, 707, 727, 505, CR-78, CR-8000, Linndrum, Drumtraks, Drumulator, OB-DX, SP-12. Revolution is much more than just an emulation however – It's about creating new, powerful sounds that push boundaries. It's drum production redefined.
It's all about the sound
Revolution's sound engine is powered by many tens of thousands of samples, capturing every possible sound / tone variation and nuance of the original drum machines, along with the subtle differences in behaviour inherent of analogue electronics. Each sound has been carefully recorded via a transformer balanced Radial JDI and brought to line level with a NEVE 1073 / API 512c pre-amp. To retain the full frequency range and dynamics of the original instruments, we carefully matched the peak level of each drum, recording them through mastering grade conversion. Revolution is not a digital 'emulation', it is the REAL authentic sound of 14 of the world's most iconic, sought-after drum machines.
Build your dream Drum Machine
Effortlessly load a different 'Drum Machine' of your choice into any of the 14 Drum Voice Modules to build your own modular dream Drum Machine! Have you ever dreamt of using a Drum Machine boasting an 808 kick, 909 snare, 707 toms, 606 cymbals and Linndrum percussion? Now you can – the choice is yours. Browse hundreds of beautifully designed presets and thousands of sequencer patterns to quickly spark your inspiration.
Revolutionary Integration
Revolution integrates seamlessly with your DAW, delivering endless inspiration and a compelling workflow to spark creativity. The beautiful user interface has been designed with both the composer and live musician in mind – All Drum Machines and tone shaping parameters are visible via one intuitive screen through use of dynamic graphics. Easily automate all analogue parameters using Revolution's expressive multi-track step sequencer, or use the alternative classic drum computer sequencer for an experience similar to the original machines… Tempo sync is automatic, and exporting a sequences' MIDI data to your sequencer is simple via drag and drop.
Adding character
Want to add extra character and punch? Many of the Drum Machines in Revolution have been carefully recorded to analogue tape at multiple saturation levels (via a Studer A820), as well as through a vintage SP-1200 sampler and boutique high-end analogue processing chains. Revolution's unique 'Character' knob allows you to dial in a desired 'Character' for each individual Drum Machine Module. Want a raw sounding, true to the original 808 Bass Drum? Want an analogue tape saturated 909 Snare Drum? How about a gritty SP-1200 processed Linndrum clap? Revolution makes it possible!
World class effects
Revolution features a breathtakingly suite of high-end effects, filters and dynamics processors. Add space to your drums with Revolution's beautiful sounding dual reverb module - packed with 160 custom high-end impulses from iconic reverb units such as the Lexicon 300L, AKG BX20 Spring, AMS RMX16 and many others, alongside wonderful acoustic rooms from world class studios, recorded with multiple mic positions. Add definition to your drums with Revolution's unique analogue style filters and envelopes. Enhance character and tone with transient shapers, EQs, compressors and tape saturation – each available independently, per drum sound! Control your dynamics with Revolution's Master Effects module, or twist sounds into oblivion with the in-built dual-channel delay.