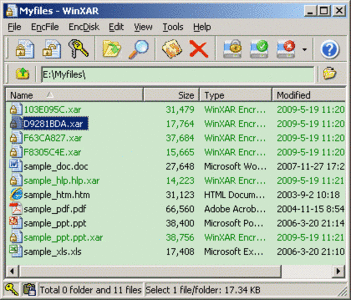 WinXAR v2.0 | 1.42 MB
WinXAR is a powerful security utility which allows you to encrypt, decrypt, rename automatically and shred folders and files for Windows 98/ME/NT/2000/XP/2003. You will not worry about your sensitive or private documents any more, especially when they are emailed or on a removable media like USB stick.
WinXAR is extremely easy to use! To open a encrypted archive simply double click on an archive listed in My Computer or Windows Explorer, drag and drop an archive onto WinXAR, or use the standard Open dialog box. The main WinXAR window features a list with the names, sizes, types, and modified time stamps of files in the directory or in the encrypted archive. This list can be scrolled and sorted on any field. A speed button bar provides fast access to commonly used actions. Extensive context sensitive help is always available.
Its key features are listed below:
1. Files are professionally protected by AES encryption algorithms - the US Government standard symmetric encryption algorithm.
2. Seamless Windows integration with My Computer and Windows Explorer. Drag and drop to or from Explorer, or encrypt and decrypt without leaving Explorer.
3. Files and folders could be shred and deleted to prevent be recovered.
4. Rename encrypted file to anonymous names automatically, nobody could guess the meaning of files from their names.
5. On screen keyboard allows user to input password using the mouse instead of the keyboard to prevent keyboard "sniffing" software from picking up keystrokes as they are being typed in.
6. Simple interface, easy to use.