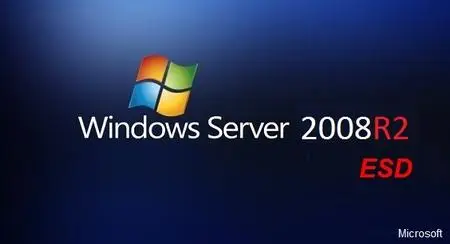 Windows Server 2008 R2 SP1 (x64) ESD en-US Preactivated MAY 2021
x64 | Language: English | 4.16 GB
Windows Server 2008 R2 is the fifth version of the Windows Server operating system produced by Microsoft and released as part of the Windows NT family of operating systems. It was released to manufacturing on July 22, 2009, and became generally available on October 22, 2009. It is the successor to Windows Server 2008, which is derived from the Windows Vista codebase, released the previous year.
Enhancements in Windows Server 2008 R2 include new functionality for Active Directory, new virtualization and management features, version 7.5 of the Internet Information Services web server and support for up to 256 logical processors. It is built on the same kernel used with the client-oriented Windows 7, and is the first server operating system released by Microsoft to exclusively support 64-bit processors.
Microsoft stopped providing security updates and technical support for Windows Server 2008 R2 RTM since April 9, 2013, and Service Pack 1 must be installed to continue receiving support and updates on any given Windows operating system. Seven editions of Windows Server 2008 R2 were released: Foundation, Standard, Enterprise, Datacenter, Web, HPC Server, and Itanium, as well as Windows Storage Server 2008 R2. A home server variant called Windows Home Server 2011 was also released
[ RELEASE INFO ]
* File: SRV2008.R2.ENU.MAY2021.iso
* Size: 4,16GB
* Format: Bootable ISO
* SOURCE: dvd-617403
* CRC32: b9be3fd8
* MD5: 7eda31f67c09bbd2c42000c2d40e2588
* SHA-1: 09acce9b4fe192bdb8810a316fbd13f95ddfe397
[ EDITIONS INCLUDED ]
* Windows Server 2008 R2 Standard
* Windows Server 2008 R2 Standard Core
* Windows Server 2008 R2 Enterprise
* Windows Server 2008 R2 Enterprise Core
* Windows Server 2008 R2 Datacenter
* Windows Server 2008 R2 Datacenter Core
* Windows Server 2008 R2 Web
* Windows Server 2008 R2 Web Core
[ FEATURES ]
* UEFI-ready
* (Use attached Rufus USB-tool to make UEFI-bootable)
* Diagnostics and Recovery Toolset 10.0 (boot.wim only)
* install.wim compressed to recovery format (install.esd)
[ Activation instructions ]
* A WPI-window will pop up in the last phase of the installation.
* For activation, select "Daz Loader" and click on "Begin Install".
* To skip activation, just click on "Exit".
* Activator: Daz Loader v2.2.2.0
[ INSTALLATION & INFORMATION ]
* Create bootable USB (highly recommended)
* with Rufus (attached) or burn to DVD-R at slow speed.
* Hope you will enjoy this release!
* Internet Explorer 11
* .NET Framework 4.8
* DirectX End-User Runtimes (June 2010)
* Important & Security Only Updates - 2021-05-11
Homepage