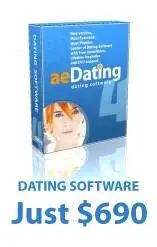 AeDating ver. 4.0.0002 PHP Script | 4,7 Mb
"We continuously work on aeDating improvements and we are glad to announce a new version release – aeDating 4.0, which includes many new features and 5 new design templates. G4 (mainstream dating) featuring template for aeDating 4.0, 3 religious dating templates (Christian, Jewish, Muslim), and Simple Dating template. Now aeDating offers even greater publishing, administrative and end-user feautures. Thus, for example, site owers using couples profiles feature can easily create swingers dating site. aeDating 4.0 turns into real web portal that offers dating services with new features of blogging and media gallery. Finally, aeDating 4.0 offers greater members increasing tools such as member as affiliate and affiliates banners".
* dating software that's affordable - making it easy for startups to get into the online dating business
* customizable options that are easy to use - for the administrator and the member
* that aeDating dating script is flexible allowing you to control settings, appearance, memberships
and more
* online dating software that has been tested and proven to work with big volume sites.
http://rapidshare.de/files/26291105/AeD.rar
PS. The latest version is 4.1 IQ anybody got it???