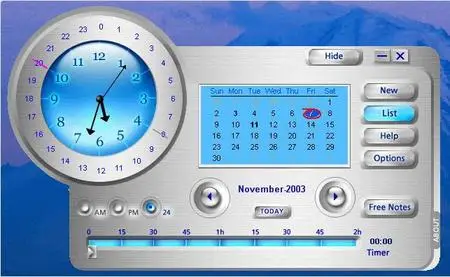 Alarm Master ver. 4.15 | 630 Kb | Windows OS
This multifunctional personal organizer includes alarm clock, scheduler, timer and calendar. The program supports skins. Alarm Master Plus is the same as Alarm Master but it is based on the new Microsoft Graphics Plus technology and uses anti-aliasing and transparency drawing.
The alarm clock can remind you about important events by playing your favorite music or video (MP3, MPG, AVI, etc.), showing and talking a notification message, opening a document, or starting the program you like.
Alarm clock mode allows to set alarm for the current day or any forthcoming date. Number of alarms is almost unlimited. Besides, there are special templates for setting the daily, weekly, monthly or single day alarms for certain time. This feature allows you to organize your schedule of course attending, schedule of monthly bill payments, calendar of birthdays, etc. Astrological zodiacal calendar is supported.
The program uses the original interface based on a classic round clock scale. It is supports skins.
Last update:
November 11, 2006.
Feature
-Modes: Alarm Clock, Snooze, Calendar, Scheduler, Timer, Notes.
-All kinds of alarm "actions": text messages, sounds, music or video. Text To Speech (TTS) property.
-Multimedia formats: MP3, MPEG, AVI, MPG, WAV, WMA, MID and other.
-Original design, simple and easy-to-use interface. ONE click to set up the alarm! The program supports skins.
-Set up the alarm for the current day or any forthcoming date.
-Set up template alarms: daily, weekly, and monthly notifications or certain date notification.
-Schedule execution of service programs.
-Schedule Shut Down PC.
-Handy timer for setting a sound signal for time intervals.
-Zodiacal calendar.
-Local language fonts and local calendar settings are supported.
-Multi user mode under Win NT/ Win 2000/ WinXP is supported. Every user has private Alarm Master data and settings.
-Default player uses to play multimedia (winamp, Windows Media Player, etc.)