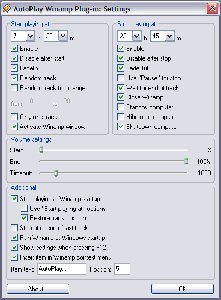 AutoPlay Winamp Plug-in ver. 2.3.3 | 6 Mb
Fall asleep and wakeup with your favourite music!
Plagin for Winamp a, which automatically presses button "Play" in the time assigned. Now dear media-pleyer can be used as an alarm clock, and been spilled under the dear music. And many other useful functions…
What this plugin can do?
Start playing at target time with options:
- FadeIn
- Random track choice
- Random track from range
- Exact track
- Start playing at Winamp startup with these effects
–––––––––––––––––––––––––––––––––
Stop playing at target time with options:
- FadeOut
- Close Winamp
- Shutdown computer
- Standby or hibernate computer
- Stop after end of last track with these effects
My Other posts on AvaxHome :
http://abdli70.googlepages.com