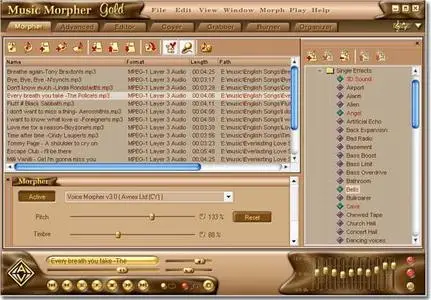 AV Music Morpher Gold 3.0 | Application| Size: 7,8 Mb
AV Music Morpher Gold 3.0 is one of the most advanced multitrack music editor programs available on the market. It makes audio-editing tasks a breeze, and brings a lot of fun into the process. Its remover/extractor helps reduce vocals from stereo songs. In addition, powerful real-time effects in this multiformat audio CD and MP3 ripper enable you to create professional quality audio productions in no time at all.
Customize audio clips for cartoons, movies, TV shows, etc.
Create different voices of male, female, adult, baby qualities for different kinds of movie clips
Remove vocals from stereo songs
Get the karaoke music for karaoke singing or a sweet melody
Record your karaoke songs
Cover your own favorite tracks, save them as records of personal practice or for group entertainment effectively
Extract vocals out of a stereo mix
Make an "acappella" or simply extract vocals for another remixes.
Make a remix or medley of songs for dancing, DJ-ing, etc.
Mix two voices to produce hip remixes and medleys for dancing, DJ-ing, and etc.
and much more..
Download
here
and
here
Enjoy!!