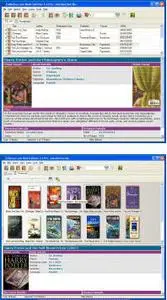 Book Collector 4.5.1
Organize your book collection in a database and finally know exactly which books you own
Book Collector is a program for making a database of your book library: paperbacks, hardcovers, magazines, bundles, and other book formats. Adding books to the database is quick and easy because all information is automatically downloaded from book database sites (e.g. Library of Congress) and online book stores on the internet. The resulting list can be sorted, searched, grouped, printed or exported to HTML or ASCII. Read on for more details.
Use Book Collector to:
* Catalog books automatically: Just type or scan ISBN barcode or type author and title to add books to your database.
* Download all book data: Including cover image, author, title, publisher, year and genre.
* Browse your book covers: Use the Thumbnail View to browse your collection by cover image.
* Instantly sort your lists: On any field, e.g. alphabetically by author, title or genre, or by year
* Search your book database: E.g. find a book by title or find all books you haven't read yet
* Multiple languages supported: English, Dutch, German, Hungarian
* Print book lists
* Export data to HTML, XML or CSV
* Track your loans
http://rapidshare.de/files/18696241/BC4.5.1.rar.html