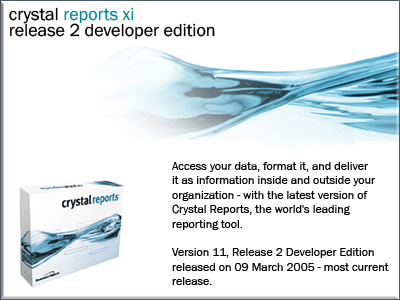 Crystal Reports XI Release 2 for Developers | Release Date: 09 Mar 2005
Multi-Language with Documentation | Eight RAR Files | 715.80 MB Compressed | 850 MB Extracted
The original post had, for whatever reasons, been truncated and the links were not present. In addition, a product update patch as been added.
Access your data, format it, and deliver it as information inside and outside your organization - with the latest version of Crystal Reports, the world's leading reporting tool.
Crystal Reports v11.0 Release 2 for Developers is the latest release from Business Objects. Documentation and Installation is supported in the following languages:
English
French
German
Italian
Spanish
Japanese
Chinese - Simplified and Traditional
Korean
Dutch
System Requirements:
*
Operating system - Microsoft Windows 2000 SP4, XP, or later
*
Additional operating systems for Java Reporting Component only - Linux Red Hat Enterprise 3, Solaris 8 or later, AIX 5.1 or later, HP-UX 11i v1
*
Processor - Pentium II or higher (Pentium III-class recommended)
*
Memory - 128 MB of RAM (256 MB recommended)
*
Hard disk - 350 MB of free hard disk space (600 MB recommended)
Supported Platforms:
A full list of supported platforms is available:
http:...9686/platforms.txt.html
CRYSTAL REPORTS 11 for DEVELOPERS
Recommended for Application Developers
Create and integrate reports into your Web and server-based applications - and deploy them easily as zero-client or rich-client solutions.
*
Application integration
Add report viewing, creation, and modification capabilities your applications.
*
Data access
Access almost any kind of data with more than 35 data drivers and tight control over database connectivity.
*
Formatting and design
Design professional-looking, interactive reports using features like the visual report designer and dynamic prompts.
*
Report viewing and interaction
Make it easy for people in your organization to view and work with reports by customizing them to match their needs.
*
Security, support, and maintenance
Learn how Crystal Reports can work within your existing security infrastructure and with other Business Objects tools.
Release 2 is operable and functional with Microsoft Visual Studio 2005.
WHAT'S NEW in CRYSTAL REPORTS 11
Dynamic and Cascading Prompts
Crystal Reports XI provides for dynamic and cascading prompts. This means that report designers can base report prompts on dynamic values. They no longer need to maintain static prompt value lists within individual reports and they can reuse existing prompts stored in the repository.
Base reports on dynamic values with the dynamic and cascading prompts feature.
RTF Export Format
The new RTF export format is excellent for report export editing. This complements the existing RTF export of optimized accuracy and forms processing. The result is that the end user is now able to enhance and expand a report in standard word processing applications.
Dynamic Image Location
Pictures and graphics can now be placed in a report through a link in the database so that it is no longer necessary to store images within the database. This supports the common practice of storing images on the web server and storing references to
those images in the database.
Pictures and graphics can be placed in a report through a link in the database.
Drag-and-Drop Charting and Cross Tabs
New drag-and-drop charting and cross-tabs allow for intelligent charting approximates variables when a chart is dropped into a section. Chart design is now faster and easier because charts will be updated automatically when new variables are added.
HTML Preview
The iterative report design/view process is streamlined, with a new HTML preview that allows report authors to see how reports will look when published to the web.
Publish perfect reports by previewing how reports will look before they are published to the web.
Dependency Checker
Use the Dependency Checker to instantly find broken links, formula errors, and dependency issues before reports are published and distributed
Workbench and Repository Explorer
Using the Workbench and the Repository Explorer, users can easily browse, build, and publish object packages. With object packages, users can schedule, manage, and secure a group of reports together rather than just one report at a time.
The Workbench allows users to keep projects organized by grouping reports according to preference.
The new Repository Explorer simplifies navigation within the BusinessObjects Enterprise system and reporting components can be easily shared among users within the Crystal Reports Designer.
Designer Improvements
Designing reports is easier with the Getting Started page that appears each time you open Crystal Reports. The updated Visual Report Designer allows you to point and click so you can create reports without the need for intensive coding.
Updated Data Drivers
Crystal Reports XML, JDBC, IBM DB2, and Exchange data drivers have been updated to give you an incredible range of data access options.
New Patch Installation
This new feature means that all customers will have the most up-to-date version of Crystal Reports XI because they will automatically receive the latest hot fixes and service packs.
Single Sign-On
Single sign-on is a new feature. Now Crystal reports can be integrated into an existing security infrastructure.
Enhanced Support for Business Objects Universes
Support has been enhanced for Business Objects universes (the semantic layer for BusinessObjects business intelligence tools like Web Intelligence), to include universe view time security and union queries.
Complete Integration with BusinessObjects Enterprise Architecture
Enjoy seamless continuity between all of the applications within your business intelligence technology suite. Scalability is easier when everything is integrated.
Report Export Configuration
Report export configuration information can be saved with the report so that end users forgo the time and trouble of reconfiguring the export each time a report is run.
Hierarchical Grouping
Hierarchical grouping has been enhanced, providing increased layout control so that users can create their reports in a hierarchical, rather than just a relational, manner. This provides a better fit for organizational charts and summary reports.
N Value for Top N Style Reports
Parameterized control for N value for top N style reports means that a single report will meet the needs of multiple users. This will reduce the total number of reports that are created and supported.
More Information:
http://www.businessobjects.com 
Rapidshare Download Links: Parts 1 - 7, 95.7 MB Each. Part 8, 45.3 MB
Download Part 1
Download Part 2
Download Part 3
Download Part 4
Download Part 5
Download Part 6
Download Part 7
Download Part 8
Product Update | 136 MB | 06 Apr 2006 - Release Date | 95.78 MB and 36.53 MB
Update Part 1
Update Part 2
Rapidshare User Friendly Links:
http://rapidshare.de/files/26743958/CR11DE.part01.rar.html
http://rapidshare.de/files/26746893/CR11DE.part02.rar.html
http://rapidshare.de/files/26749735/CR11DE.part03.rar.html
http://rapidshare.de/files/26753056/CR11DE.part04.rar.html
http://rapidshare.de/files/26765406/CR11DE.part05.rar.html
http://rapidshare.de/files/26768365/CR11DE.part06.rar.html
http://rapidshare.de/files/26762500/CR11DE.part07.rar.html
http://rapidshare.de/files/26740975/CR11DE.part08.rar.html
http://rapidshare.de/files/26834985/Update.part1.rar.html
http://rapidshare.de/files/26831815/Update.part2.rar.html