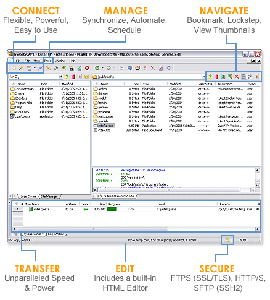 What is Cute FTP Professional?
CuteFTP Professional is a powerful tool for securely and reliably transferring any type of data over industry standard protocols.
CuteFTP Professional Features
General
Windows 98/ME/NT/2000/XP Compatible
Windows 2003 & IIS6 Compatible
Compliant with RFC 959, 2228, 2389, 2289 & More
Compliant with OpenSSL Libraries 0.9.7d
Compliant with ZLIB Libraries 1.2.1
Compliant with latest secsh (Secure Shell) drafts
Fast Startup (Delay Loaded Components)
Transfers
Concurrent Transfers from Multiple Sites
Multi-part (Accelerated) Transfers
Compressed (ZIP, CAB, GZIP/TARBALL) Transfers
Streaming Compressed Transfers (MODE Z)
Transfer Integrity Checking (CRC Checksum)
Resume Interrupted Transfer Support
Scheduled Transfers & Tasks
Bandwidth Throttling Controls
Site-to-Site Transfers
Advanced Transfer Queue
Filtered Transfers
Manual Transfers
Transfer Auto-rename Options
Transfer Auto Change-Case Options
Configurable Overwrite Rules
Transfer Remote & Local Timestamp Controls
After Transfer Events Controls
Transfer/Receive Buffer Controls
Auto-detect Data Transfer Mode (PASV / PORT)
Auto-detect Transfer Type (ASCII / Binary)
Cut, Copy, Paste Transfers)
Drag 'n Drop and Menu-based Transfers
Connectivity
HTTP, HTTPS, FTP, FTPS, SFTP Support
Multiple FTP Server Host Type Support
Concurrent Connections to Multiple Sites
Step-by-Step Connection Wizard
Quick Connect "Address Bar"
Site Manager (Address Book)
Site Manager Import / Export
3rd Party Address Book Importer
Data Port Range Limiter
NAT Auto-detect (Port Mapping)
HTTP Proxy Support
Manual Configuration of Proxy Settings
Auto-detect Windows Proxy Settings
Socks 4 & 5 Proxy Support
EPSV and EPRT (IPv6) Support
IP/Port Range Control
OnStartup Connection Events
OnConnect Switch to Folder Options
Configurable Connection Keep Alive Feature
DUN/LAN Integration and Options
Cached Connections for Offline Browsing
Multiple Folder Caching Options
Per Site & Global Connection Options
Security
SSL v3 (TLS) Support
SSL Implicit (Port 990) Support
SSL Explicit (AUTH SSL) Support
SSL Client & Server Certificate Support
SSL Certificate Creation Wizard
SSL Certificate Local Trusted Store
SSL Use Windows Trusted Root CA Store
SSL "Strong" Keys up to 4096 bits
SSL Clear Command or Data Channel Option
SSL Site-to-Site (SSCN) Transfers
HTTPS (HTTP over SSL Connections)
SSH2 Secure Shell (SFTP) Support
SSH2 Password & Public Key Authentication
SSH2 Identify File Creation Wizard (RSA/DSA Keys)
SSH2 Sec. Key Password Store or Prompt Option
SSH2 Cipher, Mac, Compression Options
SSH2 Remote Rename & ASCII Transfers
SSH2 Trusted Identity Store
OTP (One Time Password) MD4 & MD5 Logins
Blowfish Encrypted Site Manager Option
Password Storage and Access Policies
Management
Script/Macro Recording & Playback
COM Interface / Scripting
Folder Synchronization Tool
Folder Comparison Tool
Local Folder Monitoring Tool
Site Backup & Archival Tool
Integrated Full Screen Text/HTML Editor
Remote "Server Side" ASCII File Editing
Thumbnail view of image files
Bookmark Frequent Paths
Custom Command Create / Edit / Playback
Manual FTP Command Insertion
Custom Command Create / Edit / Playback
Remote File & Folder Permissions Editor
File/Folder Property/CHMOD Display & Modify
Interface
Choose between "Home" and "Pro" Interface Modes
Multiple Sorting & Display Options
Find, Select, and Filter Options
Drag n' Drop Operations
Dozens of Accelerator (Shortcut) Keys
Lockstep Navigation of identical folder structures
XP or High-Color Toolbar Icons Options
Small & Large Toolbar Icons Options
Sound Event Triggers
Adjustable Log Settings
Adjustable Fonts for all panes
Ultra fast startup
Many More Interface & Display Options!
Size : 6.1 MB
Download :
OxyShare
mirror rapidshare :
http://rapidshare.de/files/22654390/DZ_cut.rar
password :
www.dzportal.com