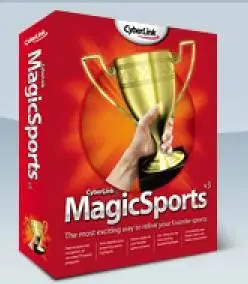 MagicSports allows users to quickly browse the best parts of a game via an onscreen menu then start playing the game from the beginning of the highlight. Featuring a new module for analyzing baseball games, MagicSports now identifies each baseball pitch throughout the game and includes "Next Pitch" and "Last Pitch" buttons to let users skip to a moment just before the ball is thrown.
MagicSports identifies highlights using CyberLink MagicScene™ technology. The technology includes a sports analysis algorithm that processes video and audio signals to locate pitches, strikes, walks, home runs, points scored, and other game highlights. A two-hour baseball game can be analyzed in around 10 minutes, after which users can start browsing highlights or skipping between pitches. A full soccer game can be analyzed with 95-98% accuracy in under 20 minutes.
"CyberLink MagicSports 3 revolutionizes the way baseball fans can relive the highlights of their favorite games," said Alice H. Chang, CEO of CyberLink. "CyberLink has applied advanced video analysis techniques to create a new way of watching sports video programs; instead of fast-forwarding their recorded videos, users can now browse a visual menu for their favorite highlights."
Features:
-Next/Last Pitch buttons for skipping between each pitch, with pitches automatically identified by MagicSports
-Game highlights, including home runs, walks, strikes, and other interesting moments automatically identified by MagicSports
-A transparent onscreen menu that enables users to browse game highlights using small "thumbnail" images while their game plays in the background
-A star rating of highlights that provides a rating system allowing users to quickly judge the best of the best game moments
-Create Video Feature that lets users output a summary of a game's highlights by allowing MagicSports to automatically identify highlights and then recommend the length of the video summary