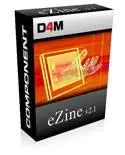 D4M ezine 2.2 full - Mambo/Joomla component
If you have ever used Mambo/Joomla CMS, you may noticed that the default FrontPage has a blog layout presentation technique of combining contents from sections/categories all together and presenting them in one solid peace. This format is awkward and inappropriate for complex content presentation, especially in the cases of news portal or online magazines. That is why we created D4M eZine component, the next generation of content presentation in flexible and elegance fashion.
In short, eZine allows you to separate all content items to multiple categories and present them in multiple pages with individual layout.
By using eZine you are no longer restricted by default plain blog positioning technique. You are now able to present maximum contents in a elegance and flexible fashion. eZine can help you to use maximum space of the page. Moreover, you can have as many such pages as you want. Just imagine what you could do if you are able to have multiple "frontpages" with truely individual content on each. Now, let's take a look at eZine's features and see how the powerful content presentation can be.
For live demo and support, please visit
http://demo.designformambo.com/ezine/
Download
http://rapidshare.de/files/28110605/D4MeZ2.2.rar.html