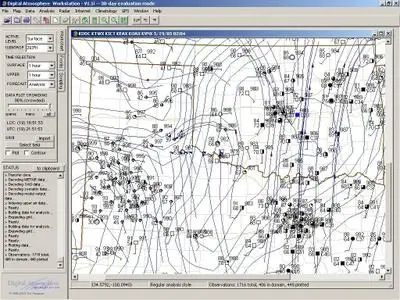 Home Page:
http://www.weathergraphics.com/
Digital Atmosphere is powerful weather forecasting software that allows you to create detailed maps of real-time weather for anywhere in the world. It makes extensive use of techniques and algorithms that are comparable and in some cases superior to the National Weather Service's multimillion-dollar Advanced Weather Interactive Processing System. It can run on any 486 or Pentium system, and does not require any type of subscription or recurring costs, using free data from the Internet.
Digital Atmosphere is a professional-grade weather analysis program for hobbyists, meteorologists, pilots, and professionals.
* Plot all types of standard weather maps including surface charts, upper air charts, and high quality soundings (the best anywhere by a huge margin, we think)
* Downloads free data automatically from academic, government, and hobbyist web servers!
* Plot high-resolution radar on high-quality topographic maps!. Using unzipped files served by the free NOAA/NCDC HDSS radar storage system you can view street-level U.S. radar data going back to 1992!
* Built in ESRI Shapefile GIS support
* Generate worldwide maps up to 8000 x 8000 pixels and more, and plot data onto it!
* Display fronts from NCEP ASUS messages and from European FLEETCODE!
* Import GRIB data!
* Import and mosaic non-U.S. radars. Digital Atmosphere imports and georeferences radar data on public web pages for countries such as Canada, Mexico, and Australia.
* Beta test versions introduce full NOAA/MADIS mesonet support, upgraded GRIB capability, a new graphics interface, and much more.
* Free upgrades for two years, no-nonsense tech support, plus a user community in our forums!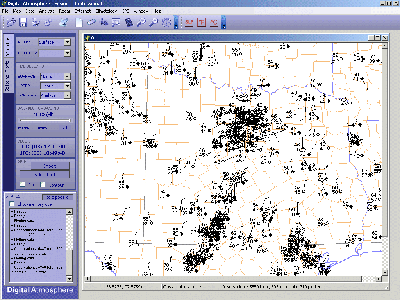 More info & screenshots:
http://www.weathergraphics.com/da/
Gallery:
http://www.weathergraphics.com/dagallery.htm
Download, keygen included (14.9 MB):
http://rapidshare.de/files/35167177/dawfw11j3.rar