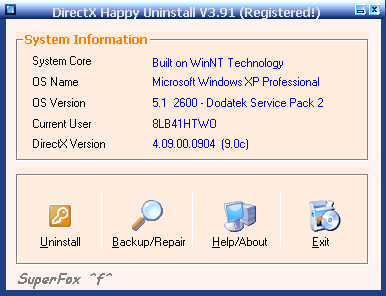 DirectX Happy Uninstall ver. 3.91 | 3 MB
A tool of uninstall DirectX completely and keep your system stability
• Support Windows 98/Me/2000/XP/2003.
• Support to DirectX9.0c(4.09.00.0904) completely and safely.
• Uninstall DirectX completely and keep your system Stability.
• Use "Repaire of dynamic intelligence" technology, guarantee that the system and registry avoid any mistake after uninstall/restore/rollback.
• Support uninstall different versions of DirectX.
• Restore/Rollback original DirectX of your Win2000/XP/2003 completely.
• The "Check DX Groupware" and "DX Diagnostic Tools" function can take you to see mistake by another DX uninstall tools
• Have Backup funtions, it can restore the origingal files of DirectX in your 2000/XP/2003.
• You can Rollback DirectX from your 2000/XP/2003 setup CD-ROM completely.
• You can check uninstall/restore/rollback completely by this DirectX Happy Uninstall.
• Uninstall DirectX very fast.