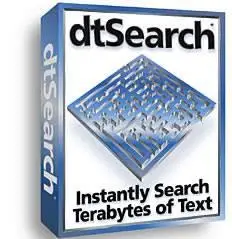 dtSearch Desktop v7.50 Build 7463 | 32.2 MB | Rs.com
dtSearch Desktop provides instant searching of desktop-accessible files.
Home Page:
http://www.dtsearch.com/PLF_desktop_2.html
The dtSearch product line can instantly search terabytes of text across a desktop, network, Internet or Intranet site.

dtSearch products also serve as tools for publishing, with instant text searching, large document collections to Web sites or CD/DVDs.

- over two dozen indexed, unindexed, fielded and full-text search options
- highlights hits in HTML, XML and PDF while displaying embedded links, formatting and images
- converts other file types — word processor, database, spreadsheet, email and full-text of email attachments, ZIP, Unicode, etc. — to HTML for display with highlighted hits
- built-in Spider adds local or remote web sites (including dynamically-generated content) to your searchable database.

dtSearch Desktop provides instant searching of desktop-accessible files.

How dtSearch works
Special dtSearch Desktop features include:
a scrolling word list, for instant feedback as you type in a search.
a look-up word feature, detailing the effect of fuzzy, phonic, wildcard, stemming and thesaurus search options.
browse and customize thesaurus options.
a field button, showing all indexed document fields.
a search history display.
search reports, showing hits in retrieved documents, along with the requested amount of context.
clipboard options, file launching, and other tools for working with retrieved data.
exporting of search results in various data formats, for easy use with other programs.
special forensic indexing and searching tools.
User Manual:
http://support.dtsearch.com/ftp_pub/dtSearchManual.pdf
Download:
http://share0.com/get?re=1708782830