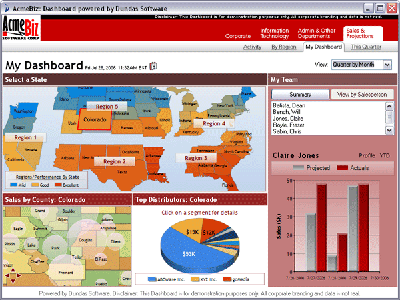 Dundas Map for Reporting Services v1.0.0.522 for SQL Server 2005 | Windows OS | 39.7 MB
A Global View of your Data
Understanding your data within SQL Reporting Services is pivotal to making better business decisions. Until now, if you had geographic data that you wish to visualize using SQL Reporting Services, your options used to be limited to simple charts and data grids. With Dundas Map for Reporting Services, you now have a level of visualization that goes beyond what can be achieved with the standard reports in SQL Reporting Services.
Use it stand-alone, or in conjunction with the other Reporting Services products from Dundas to transform your reports into stunning Digital Dashboards.
Why choose Dundas Map?
Dundas Map for Reporting Services offers you a complete set of mapping abilities. Effectively create and modify maps to demonstrate geographically divisible data within your reports in SQL Reporting Services.
Using Dundas Map and our other products for Reporting Services, you now can created advanced, customized digital dashboards within Reporting Services 2005.
The exact look and feel required for any map can easily be achieved through the comprehensive appearance properties. Dundas Map does a lot more than create stunning visualizations - built-in logic features allow full control of map data and behavior. This intellectual capacity will ensure that generated maps provide meaningful, pertinent data based on user direction. Appearance and underlying logic of maps can be modified programmatically or using the Dundas Map Wizard.
Some of the major features and benefits Dundas Map for Reporting Services include:Dundas Map Wizard
Effortlessly create and style maps without ever touching the code. Use and modify pre-built maps to further accelerate the design process. Launch the wizard at any time and visually inspect changes before implementation. Automatic colorization and other intelligent aesthetics can be applied through this Map Wizard.
Map Projections
Map controls support ten geometric and cartographic projections to meet design, space and aesthetic needs. All projections support automatic and explicit view center specification. Projections can be changed at any time, including runtime.
Importing Shapes
Full support for industry leading ESRI shape files. Easily import these (.shp) files through the design-time wizard. Select accompanying data fields for automatic naming and data association of map elements.
Grouping and Layering
Maps can have an unlimited number of logical layers. Map elements can belong to one, all or none of these layers, giving more flexibility to the application. Layers can easily be shown or hidden. Visibility of layers can be made contingent on zoom level. Elements can also be grouped for collective control of their properties.
Legends and Scales
To facilitate comprehension of maps, legends and scales are easily added to maps through the properties browser. Complex legends can be programmatically added giving further informational depth to maps.
Data Binding
Associate map elements with multiple database columns for intelligent naming and classification. Additionally element behavior and appearance characteristics can also be loaded from external data in this way, further reducing development time.
Libraries
Dundas Map contains a comprehensive library of base maps. These can be used as a foundation for your map based applications. Within the libraries a wide variety of styles and map regions exist to showcase potential of the map control.
Map Simplification
Map simplification can be used to ensure that the desired amount of accuracy exists in your map. Simplification can accelerate rendering and be used in conjunction with zoom visibility properties to progressively give more detail to users based on their inputs.
Shapes, Paths and Images
Adding shapes and paths to highlight areas and routes of interest is easily achieved. The clarity they bring and the information they can contain allows for increased data depth in map controls. Images can also be easily added to maps to enhance their looks or to achieve branding goals.
More:
http://www.dundas.com/Products/Map/RS/Features/index.aspx
Download @ RapidShare
MD5: e3055ec806c4165b2ada2609031c6eb6
Thanks to TEAM Z.W.T