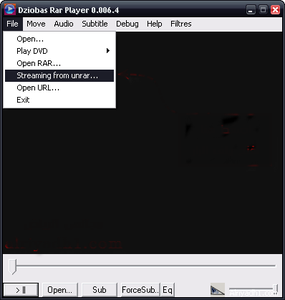 RAR Player 0.006.4 | Portable | English | 5.1MB
Dziobas Rar Player Portable- Preview & Play DivX, Xvid, DVD, Avi, Ogg & Mpeg movie video files from partly downloaded/splitted RAR files
Most of the times, large movies that are available for download through P2P or BitTorrent are split into multiple parts so that downloads are convinient, easier and faster. And if you've noticed, most of these files are in the RAR format with names such as filename.r01, filename.r02, filename.r03 or filename.part1.rar, filename.part2.rar and so on and so forth.
What if you just want to preview the movie to check whether its worth watching without wasting time downloading all the RAR parts?
Dziobas is a freeware utility that allows you to play videos from a splitted/partly downloaded RAR archive file. It can also play movies directly from complete RAR archives without needing to extract them to a folder.
It can play the following type of movie videos from a partially downloaded RAR file:
-Xvid/DivX codec based movies
-DVD
-MVK
-AVI
-MPEG
-OGG
It plays files using mplayer which is contained in the download package. The documentation is in Polish but here are some steps:
1) Download Dziobas Rar Player and extract the contents to a folder
2) Run DziobasPlayer0.006.4.exe from the folder
3) Either drag and drop a RAR file part onto the program's window or goto File and select "Open RAR" (for complete archives) or "Streaming from unrar" (for splitted/partially downloaded files)
2 Responses to "Dziobas Rar Player Portable- Preview & Play DivX, Xvid, DVD, Avi, Ogg & Mpeg movie video files from partly downloaded/splitted RAR files"