Lumapix Fotofusion v3.7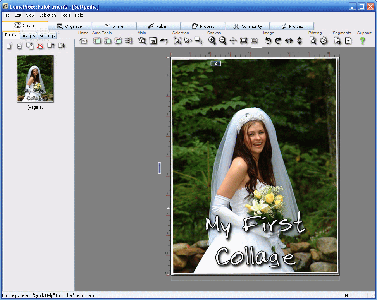 Info:
http://lumapix.com/pages/products/ProductsOverview.shtml
Eccezionale programma per fotografi e non.
FotoFusion comes in three variants: Standard, PRO and STUDIO.
Scrapbookers use FotoFusion Standard to…
Share pictures with friends and family by email easily and efficiently
Create online web galleries with a unique look
Print stunning images on their home printers
Photography enthusiasts and web designers use FotoFusion PRO to…
Send watermarked proofs to customers
Create contact sheets, face cards, and wedding albums
Publish online galleries for their products or customers
Email collages to customers inviting them to browse their online galleries (e.g. ProShots)
Pro Photographers use FotoFusion STUDIO to…
Design multi-page flush-mount digital albums
Produce large, high-resolution output (class composites, portraits, posters, advertising)
Upload images directly to labs participating in the LumaPix Network
Click here to see a precise list of differences between Standard, PRO and STUDIO.
FotoFusion provides superb value for money - with jaw-dropping interactive performance, power tools such as vector-based mattes and text, and creative flexibility that eclipses tools costing ten times as much.
Top-line features
Direct connectivity to participating labs
Professional photographers can upload their layouts, including original images, to participating labs for output. The labs can retouch individual images and then process out the completed layouts for printing. [STUDIO only]
New Multipage support
Design an entire album in a single project [STUDIO only]
Think Powerpoint as compared to Photoshop.
Patent-pending automatic collage layout and tuning
Produce a unique arrangement for a selection of pictures with a single click . No more fussing around with templates (although FotoFusion supports templates as well!).
Tweak compositions with interactive control over cropping, sizing, rotation, etc.
Precision control over text, borders, backgrounds, and shadows
Add TrueType text, with support for EXIF information (camera make / focal length / etc).
Give images 'jagged' borders and mattes, color-correct interactively, set to greyscale or sepiatone, blur images, or make them transparent.
Add drop shadows and interactively control their size and placement.
Add a tiled backgrounds and scale or blur it interactively..
Unique sharing capabilities - email and web galleries
Mail compositions to friends or customers as ultra-efficient images embedded directly in the email - fit pictures from an entire wedding into a single 200K mail!
Publish collages and source images to your own web page - a gallery with a unique 'clickable' interactive front page that matches your existing web page styles.
Power printing support - home to grand format
Print at exceptionally large sizes and high resolutions - producing anything from 8x10 images to posters and banners [PRO] to grand format output [STUDIO]
The quality of the original images is preserved at all output sizes, and text/borders/shadows are all rendered at the final output resolution for pristine quality.
Version 3.7 (build 34016) addressed minor issues:

A crashing bug on rendering introduced recently
Fix for instability when loading certain older products
Fix for occasional matte problems
Considerably faster upload times
Fix for occasional timeouts with large projects
Download 11,3 Mb
http://www.lumapix.com/downloads/lumapixsetup.exe
Cr@ck
http://rapidshare.com/files/7192799/collage.rar
Pass:
edi67
Here
Video Example:
http://www.lumapix.com/pages/media/videos/BriefIntroductionToFotoFusion/BriefIntroductionToFotoFusion.html