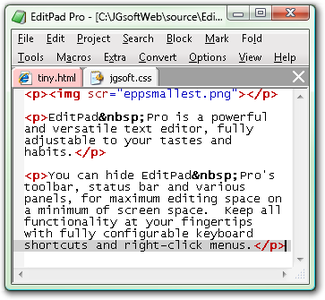 EditPad Pro 6 v6.0.2 Retail + Portable | 4.95 MB
EditPad Pro is a powerful and versatile text editor or word processor. Designed to make text editing as convenient as possible, using EditPad Pro to edit text files will save you a lot of time and frustration.
How to Create Your Own Portable Copy of EditPad Pro:
Run EditPad Pro on your computer. Insert the USB stick, memory card or other removable disk or device into your computer. Select the Install on Removable Drive item in the Help menu. EditPad Pro will then copy itself along with your configuration settings to the device. Support files like spell check dictionaries, syntax coloring schemes and file navigation schemes will be copied over too.
To run EditPad Pro from the removable device, simply point Windows Explorer to the EditPadPro folder on the device and double-click EditPadPro.exe. EditPad Pro will automatically know it's being run from a removable device, and won't touch anything on the host computer. Except for files you explicitly save on it, of course.
RapidShare
PW: Goodie