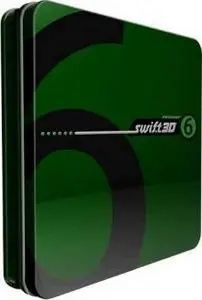 Electric Rain Swift 3D v6.0.897 | 54.78 MB
Swift 3D
software for conversion of 3D in Flash / vetornuyu schedule. In addition to the conversion application that enables developers to quickly and easily create high quality 3D animations and scenes for use in Adobe Flash, Papervision3D, and other multimedia applications. The program is a powerful and easy-to-use solution that provides high-quality results and a wide range of options at a reasonable price. Is the only program that is directly integrated with Adobe Flash, with the Swift 3D File Importer and SmartLayer Technology, and providing unrivaled vector rendering quality and style options. A set of tools and interface programs allow each to quickly create 3D-content. With the new export Papervision3D, the program represents a new area of possibilities of 3D in Flash.
Swift 3D
has a particular role - is an application for a vector of three-dimensional modeling, animation and rendering. Basically Swift 3D is addressed to Web-designers who use Flash technology to create multimedia materials in the format rich-media, and therefore set its functionality is aimed at creating animated scenes. Since the three-dimensional animation on the Internet (and especially in format Flash) is a frame process modeling tools and animation Swift 3D provides the user only the most essential features. Each element of the interface and the mechanism of Swift 3D visualization is used to accelerate and facilitate the process of creating three-dimensional graphics for Flash.
Features:
• Ability to export to the Papervision3D format
• Import and visualization of transparent textures
• orthographic projection
• Improved user interface
• New controls make it easy to work with keyframes
• Built-in optimization can reduce the file size by 50% or more.
New in Electric Rain Swift 3D v6.0.897:
* Boolean Operations Support
* 5X Faster Raster Rendering Speed
* New Texture Mapper
* Multiprocessor Support (5X Faster)
* Papervision3D v2 Support
* Background Image Tracing
* Extrusion & Lathe Editor Multi-Path Support - Draw multiple unique paths
* Clone & Arrays Support
* Bump Map Texture Support
* Soft Shadow Support
* Enhanced Camera Controls
* Expanded User Preferences
OS: Windows All
Language: English
DOWNLOAD:
HOTFILE | FILEFACTORY
NO MIRROR PLEASE!!!
MY BLOG:
http://avaxhome.ws/blogs/presoft