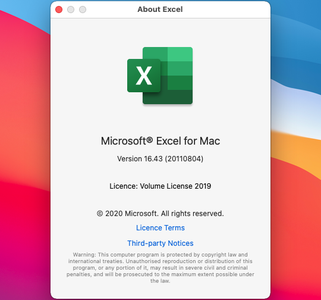 Microsoft Excel 2019 for Mac v16.46 VL Multilingual | 882 MB
Languages: English, العربية, 中文, Čeština, Dansk, Nederlands, Suomi, Français, Deutsch, Ελληνικά,
עברית, Magyar, Bahasa Indonesia, Italiano, 日本語, 한국어, Norsk, Polski, Português,
Русский, Slovenčina, Español, Svenska, ภาษาไทย, Türkçe
The powerful Excel spreadsheet app lets you create, view, edit, and share your files with others quickly and easily. It also lets you view and edit workbooks attached to email messages. Work in accounting, auditing, finance, or other fields, with anyone, anywhere with confidence. With Excel, your Office moves with you and can implement the most complex formulas, with amazing features.