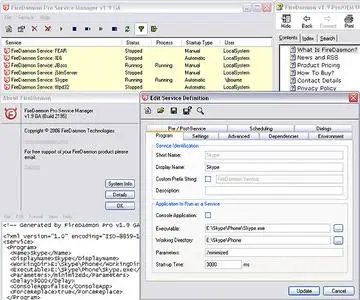 Firedaemon Pro v1.9.2199(4800 KB)
Install and Run Any Application Program as a Windows Service!
FireDaemon is a systems program designed for Microsoft Windows allowing you to configure, install and run virtually any application program or script as an interactive or non-interactive Windows Service Application. Whether it's an existing native 32-bit or 64-bit application or scripting interpreted language (eg. Java, .NET, Perl, Batch (BAT/CMD), Python, Ruby, TCL/TK, PHP) FireDaemon can handle them all with ease!
Why Install Your Application as a Windows Service?
Running your application program executable under FireDaemon is easy and requires no modification to your existing program. Key benefits include:
* Ability to start your application before you login and run continually across multiple user sessions (either interactively or non-interactively)
* Secure your application against unintentional or malicious shutdown
* Restart your application in the event of failure or at scheduled predetermined intervals
* Ability to modify your application's priority and bind to specific processors or cores
* Execute additional transient programs during the service lifecycle
* Control, log and close popups that your application might display
* Assists in meeting various government regulations, Acts and standards pertaining to computing systems robustness, security, management, access and control (eg. Sarbanes-Oxley, ITIL).
Features
* Tested and designated Windows Compatible by Microsoft
* Digitally Authenticode signed by Verisign
* Runs on all Microsoft operating systems (NT/2000 plus all 32-bit and 64-bit versions of Windows XP, Server 2003 and Vista)
* Total compatibility with Active Directory, Server Clusters and virtualized platforms (eg. VMware, VirtualPC)
* Community oriented fanatical technical and sales support
* Service configuration via GUI or XML
* Complete interactive service support
* Broad service monitoring and failure recovery options
* Comprehensive logging and debugging
* Subprocess prioritization and job grouping
* CPU binding on multi-CPU / multi-core systems
* Scheduling and auto pop-up closing
* Negligible memory and CPU consumption
* Free upgrades
* Powerful alternative to srvany and other freeware solutions
* Extensive documentation, FAQs and HOWTOs
* Cost effective (from $US35)