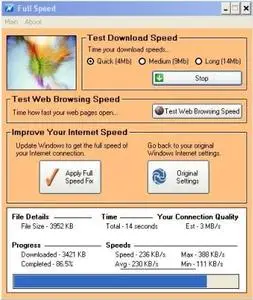 Full Speed 2.2 | 2.56 MB
Dramatically speed up your existing Internet broadband connection and
get the best performance possible from your current Internet access
Windows is not optimally configured for today's high speed Internet.
This is stopping you getting the best performance from your existing Internet connection.
Get the fastest performance from your high speed Internet access by applying 'Full Speed'.
Full Speed Internet Performance Enhancement Software
Instantly Get:
1. Faster overall Internet access
2. Faster download speeds
3. Faster web site browsing performance
4. Improved Internet and Intranet performance
5. Quicker data download times
6. Improved streaming music and movies
7. Faster download for songs and video
8. Faster performance with email
9. Faster loading Web graphics
10. Faster loading Web pages
11. Speed test for Web site browsing
12. Speed test for general data transfer
Download here
For the mirrors, don't worry. It seems that there is a competition on this site.
On average on 1000 visits, there are 3 answers and they are mirror…!