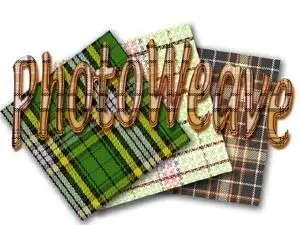 HumanSoftware PhotoWeave 1.5
Create all kind of Plaids, Striped Fabrics or Patterns with this Super Powerful Tool for Windows…
Create your own Plaids or Strip Fabric in a snap
Up to 16 yarns in the Weft and Warp direction
You can combine fabrics and simulate very sophisticated weaving
Fashion designer, create your own fabric, super realistic effect, amazing results are guaranteed and tons of fun!!!
Easy as 1, 2 and 3!
PhotoWeave is a very powerful plug-in to let you design striped fabrics or many kind of pattern effects to your images.
- Create Warp and Weft description with up to 16 yarn's color, or have a vignette(color ramp)
- Use all the Photoshop color selection tools available including Pantone
- Set Warp and Weft pattern in a numeric way including nesting of parenthesis
- Ability to angle independently warp or weft
- Repeat the pattern independently in the x and y directions
- Choose different yarn thickness (fringe option) for warp or weft for realistic rendering
- Ability to layer the fabrics and pass them thru stencils to simulate jacquard
- Weave editor grid customisable in x or y direction. Weave creation including copy/extend, weave in a selection, edit as you simulate the pattern, flip/rotate. import. Preview the weave you load and test a new instantly on a fabric. Save and add your own to the library.
- PhotoWeave is a filter plug-in. The fabric simulation is added to the current image. It means you can simulate weaving onto any kind of images.
PhotoWeave lets you create or import weave of up to 128x128size for infinite combinations.PhotoWeave is shipping with more than 130 fabric simulation and 120 weaves.
There is no limit to the number of new fabrics you can achieve…
Thanks to the powerful and fully editable layering mecanism, actions may be added to combine layers of fabrics. PhotoWeave works with a layer principle so you can mix multiple fabric or patterns in a single image. All this is happening inside Photoshop or any application compliant with Photoshop plug-in specifications.
Download
http://rapidshare.de/files/36497672/PhotoWeave.rar.html