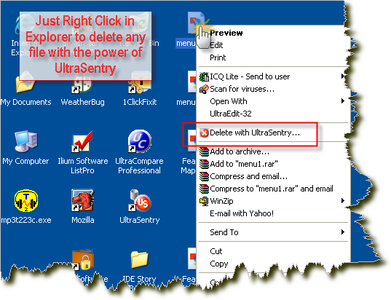 IDM UltraSentry v3.00a | Windows OS | 11.6 MB
UltraSentry is a highly advanced military-grade disk and registry cleaner that has on-board, fully configurable security profiles that can run on demand, as scheduled or upon event. Pre-Configured Profiles allow you to install, set and forget!
UltraSentry features an impressive range of commands that completely insulate your privacy, security, and computing needs both at work and at home.
Privacy Guard
Log Off Cleanup
Total System Scrub
Browser Cleanup
Or create your own…
FeaturesTemporary File Cleaning
System Temporary Files
User Temporary Files
Recycle Bin
Cookie Manager
Temporary Internet Files
Download Folders
Clipboard Data
Scan Disk Files
Advanced Operations
Unused Disk Space
Folder cleaning
Registry Entry Cleaning
INI File (as specified)
Swap File
Free Disk Space
File Slack Space
Email clean-up
Clean NTFS Alt. File Streams
History Files
Internet Browser History
Recently Used files
Network Places History
Auto-Complete History
Windows Common Dialogs
Start-Menu Order History
Start-Menu Click History
Advanced Scheduling
Run Daily
Run Once
Run Weekly
Run Monthly
Run on Event
Media Cleaning Operations
My Pictures
My Music
Media Player Recent Files
Security Deletion Levels
DoD Level C
DoD Level D
Shell
Or create your own
Additional Features
Customize Notifications
Password protection
Right click integration
Comprehensive help
Comprehensive Reports
Cleaning Wizard
Stealth Mode
Integration Features
Explorer Shell
MS Office Support
Auto-clean After Browser Closes

(Note: IE 4.0 or higher required on NT4)
MD5: e083c44e00321af5ea58528952ec86e2
Tested & Works