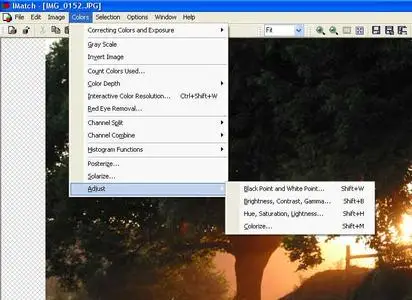 IMatch v3.5.0.22 Retail | Win2K > | 60.6 MB
Home Page:
http://www.photools.com/products.php
The Digital Image Management Solution
IMatch 3 is the Image Management Solution for photo professionals, graphic artists, serious amateur photographers, librarians, scientists, and all other users who need powerful image management software.
Organize and categorize your images in many ways
Create and use albums, categories, keywords
View, find, transform, rename and convert your images
Edit and enhance your photos
Work with RAW images from digital cameras
Use the embedded EXIF, IPTC and XMP metadata
Integrate other applications
How do You organize your fast-growing image collection?
With digital cameras, it's easier than ever to shoot hundreds of photos. But how can you organize these photos efficiently?
IMatch provides a unique way of managing images. It handles all your physical image files, yes, but it also creates a virtual view of your images, that is much more natural than the Windows file system.
The IMatch user interface is clear and designed for optimal efficiency. IMatch comes with an easy to follow tutorial and a 450+ pages of online help that answers even in-depth questions.
IMatch contains many wizards and other supportive features. You will be able to create your first database within minutes after installation. From then on, IMatch will grow with your image collection and your requirements.
Features at a glance
Support for over 100 image file formats
Customizable Web and HTML support
Integral RAW support for NEF, CRW/CR2, ORF, RAF, MRW…
Support for non-image formats like MPEG, PDF, MP3, DOC, ….
Unique dynamic categorization feature
XMP® Support
Full EXIF (including maker notes) and IPTC support
Lossless Rotation for JPG files
Built-in image editor with automatic red-eye removal
Built-in Contact Sheet Builder and Batch Processor
Complete file management support
Smart Rename with many features (with EXIF support)
Integrates other applications via customizable menus
Printing support and email integration
Powerful scripting language to automate frequent tasks
Control other applications from IMatch
Extensive Import and Export features
Unmatched flexibility for removable media (CD-ROM, DVD)
Excellent performance for small and large databases
Virtually no limit for the number of images per database
XML-based data management
"Open System" approach with published data formats
More:
http://www.photools.com/imoverview.php
Tour:
http://www.photools.com/imoverview.php
Hardware and Software RequirementsMinimal Configuration
PC with a Pentium-450 or higher processor (or compatible processor)
Microsoft Windows 2000, Windows XP, Windows 2003, 64-Bit Windows
Internet Explorer 4 or higher (if you run Windows 98/ME or Windows NT)
256 MB RAM
Hard disk space: 40 MB for the IMatch software and accompanying files
800 x 600 screen resolution minimum
Graphics adapter with at least 32.000 colors (256 color modes are not supported!)
Windows compatible Mouse or other pointing device
Suggested Configuration
PC with a Pentium 1 GHz or higher processor (or compatible)
Windows 2000, Windows XP or Windows 2003, 64-Bit Windows
Internet Explorer 5 or higher (if you run Windows 98/ME or Windows NT)
512 MB of RAM
Hard disk space: 40 MB for the IMatch software and accompanying files. At least one extra gigabyte for storing your databases
1024 x 768 screen resolution or better
True Color Graphics adapter
Download @ RapidShare
MD5: 9877066f97070bec713d082a0be30e6f
Thanks to CORE
Read the NFO