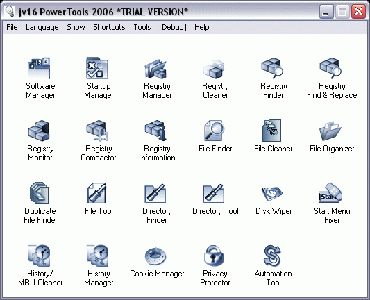 Portable jv16 PowerTools 2006 Full version
An amazing set of tools to help you fix, repair, optimize and tune up your computer easier than ever!
Does your computer seem to get slower day by day? Are you experiencing any computer problems such as crashes? jv16 PowerTools 2006 is the solution, try it now for free! The product considered to be "the best" by many, such as Fred Langa.
Main Tools
* Software Manager
* Startup Manager
* Registry Manager
* Registry Cleaner
* Registry Finder
* Registry Find and Replace
* Registry Monitor
* Registry Compactor
* Registry Information
* File Finder
* File Cleaner
* File Organizer
* Duplicate File Finder
* File Tool
* Directory Finder
* Directory Tool
* Disk Wiper
* Start Menu Fixer
* History/MRU Cleaner
* History Manager
* Cookie Manager
* Privacy Protector
more screenshot here:
http://www.macecraft.com/pt2006/screenshots/
taken from http://www.macecraft.com/news/112/

28.04.2006 - NOD32 not compatible with jv16 PowerTools 2006

It has come to our attention that using the on-access (memory-resident) scanner (AMON) feature of the NOD32 anti-virus product causes jv16 PowerTools 2006 not to work.
Until the bug is fixed you can only disable the AMON feature before running jv16 PowerTools, or you can try to exclude the jv16 PowerTools' main executable from NOD32.
download:939kb
http://rapidshare.de/files/21993299/Port_jv16_PT06.exe.html