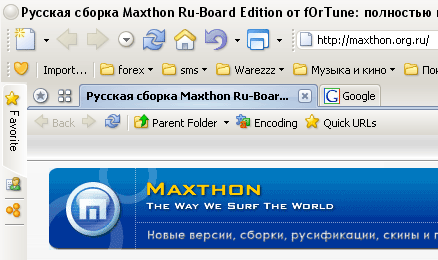 Maxthon 2.0.0.8042 Preview | 1,5 Mb
in RAR + russian & english languages
New preview-build of great browser!
Maxthon 2.0
is a different Maxthon with new face, new features and more possibilities.
What is new in Maxthon 2.0?
New slick and smooth interface, new toolbar placements, improved feeds support and editing, multiple user accounts with unique settings and much more. Most of all Maxthon 2.0 is a new build from scratch and is extremely customizable.
Changes:
+ Support IE automatic configuration script file (.pac)
+ Drag tab bar to move window when menubar is not visible
+ URL shortcut works
* Fixed tab bar drawing problem when it's on bottom
* Tab switching is made faster
* Fixed 'Block Web Content dialog drawing problem'
+ Full screen function works
* Partly fixed auto hide task bar could not popup problem.
* Fixed ' Print&Print Preview caused crash ' problem.
* The script error dialog will appear only status script error icon is clicked.
+ Menu bar is closeable
+ New Mouse gesture Left+Up for "Go up one level" command.
+ Hold right mouse and wheel to switch tab
+ Show Site Icon option works
You can create your own account right from login window!
Download Maxthon 2.0
(1,5 Mb only)