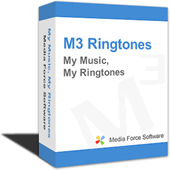 Media Force M3 Ringtones ver. 1.01 | Win32 | Size: 1,57 Mb
The ultimate ringtone solution for Windows Mobile based Smartphones and Pocket PC phones, is here! Within minutes, you can import, edit, crop, enhance, encode, upload, and set ringtones directly for your Windows Mobile phone. With the help of this simple yet powerful all-in-one product, all you have to do is a couple mouse moves and clicks. Your collection of Audio CDs, MP3s and WMAs becomes a huge repository of fresh ringtones. OK, let's get started and have some fun.
Features:
* Direct access to Windows Mobile based Smartphones and Pocket PC phones over USB, Infrared, or Blue-Tooth connections. Imports WAV, WMA, MP3 and Audio CD sound tracks
* Also create ringtones for non-Windows Mobile based phones that support MP3 or WMA as ringtones.
* Produces ringtones in WMA and MP3 in a wide range of quality settings.
* Ringtone enhancer to make your ringtone loud and clear.
* Equalizer to apply various audio style to your ringtone.
* Wizard based intuitive user interface
* and more..