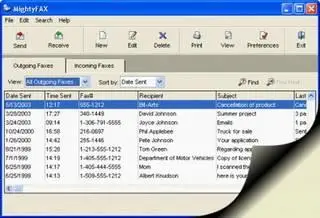 MightyFax ver. 3.37 | 3,9 Mb
No Fax Machine Required. All you need to use our fax program is a telephone line and the modem you already have in your computer.
Reliable. MightyFax is a solid and reliable program, and has stood the test of time. It has been used by thousands of users on every imaginable combination of hardware and software.
Compatible. MightyFax works on Windows 98, Windows ME, Windows 2000 and Windows XP. (note: we were one of the first companies to provide fax software for Windows XP). It will also work with most modems without further configuration.
Easy to use. The #1 comment we get about MightyFax is how easy it is to use. That's because it was designed to be a fax program first and foremost. It does not try to take over your computer, and it does not try to be more than a fax program. Customers tell us it is the most user-friendly pc fax software they have found. Simply print your document to our fax printer driver to create a fax.