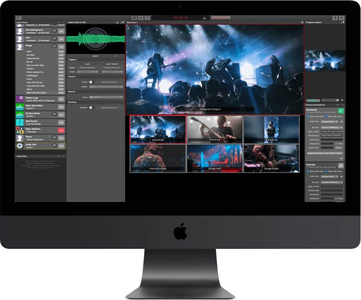 mimoLive 5.10 macOS | 77.2 MB
mimoLive is the all-in-one video encoder, switcher and streaming software for Mac. It enables you to switch multiple cameras, insert presentations, add layered graphics like weather maps, lower-thirds, social media feeds, green screens, and much more.
Creating and directing multi camera live shows is challenging. Keeping an overview of tasks like switching the active camera, replay prerecorded sequences and adding layered graphical elements is essential. For a one-person live production that is almost an impossible task. But what if there is a solution, designed exactly for this? mimoLive makes professional broadcast tools accessible for everyone.
Here is the tool which allows you to get prepared for every scene of your show, the software which performs multiple actions simultaneously on a single keystroke, the instrument which you can adjust to your individual needs.
mimoLive is the all-in-one solution for live streaming professionals and it supports NDI input and NDI playout.
Create your live video streams – step by step
Capture Audio&Video
Manage multiple input feeds
Direct your live show
Manage multiple output streams
Professional video switcher and live streaming for Mac
The live video workflow with mimoLive follows four major steps. First, capture your video footage using any given camera. Followed by the second step, the input into the computer. Conventional using professional graphic cards, externs SDI / HDMI Converter and more recently NDI 4 camcorders. Today we believe in the future of the network standard NDI 4, that's why it is our recommendation to you to check if NDI 4 delivers good results for your sort of live video stream.
Encoding, switching videos stream, graphics and decoding at once
Once the video streams are coming into your Mac – it's time for mimoLive to take over encoding, switching video streams, adding graphics and decoding the final stream. This is the third major workflow step for the director of the show. We enpower video producer to control comprehensive live shows by small teams. Finally, mimoLive uses several presets for the major streaming platforms to simply your work life, and to make the fourth step of your workflow as easy as possible.
Fields of applications for mimoLive
Interactive YouTube Live and Facebook Live Video Streams
Community TV, Public Access TV
Record presentations
Live Video Projections
Podcasts
Screencast
Game streaming, from your Mac, iPad, or iPhone
Jumbotron in Sport Stadiums
Sports TV
Religious Service Broadcasting
360° Live Streaming
eSports Conventions
Weddings
New Features:
New: Added an incoming and outgoing transition to the Count Down layer.
New: The Auto Video Switcher layer now uses a dissolve transition at the start and end.
New: Split Screen Layer: Added a border option that also can be automatically highlighted by the audio levels of the sources or manually by buttons.
New: In the Show Settings the file path of the mimoLive document is shown with a "Reveal in Finder" button.
New: Right-click on the Start Show button shows a context menu to copy the API Endpoints for controlling the show.
New: Now mimoLive can process API calls via the URL handler mimolive2://api/v1/…
Enhancement: Added the source type to the HTTP API source attributes. For mimoCall sources there is also the Call Room ID as well as the connection status.
Enhancement: Opening large documents with lots of audio mixes is much faster now.
Enhancement: Chroma Key filters: The backdrop option is now more visible in the UI – it almost feels like a new feature ;-). It enables you to define a background for the chroma keyed source.
Enhancement: Option-click on a layer parameter group will collapse all groups below at once.
Enhancement: The custom layout in Split Screen layer changed to base dimensions so it's easier to enter the right coordinates for each box.
Enhancement: Updated NDI® Framework to version 4.6 to enable NDI on Apple Silicon M1 Macs and macOS 11 Big Sur.
Important Bug Fixes:
Fixed: YouTube Comments for live streams should work again.
Fixed: Split Screen Layer: The pan option for the ePTZ controls didn't work.
Fixed: When dragging layers from one document to another, associated placeholder images where duplicated in the target document.
Fixed: When dragging sources from one document to another, the sources ended up in the standard groups for that type of source rather than in the drop location.
Fixed: mimoLive reported an outdated Virtual Camera Plugin when running on macOS Big Sur and certain 3rd party software was installed.
Fixed: Updated The Virtual Camera Plugin to version 1.4 to make it work on Apple Silicon M1 Macs and macOS 11 Big Sur.
Fixed: Disconnecting a mimoCall on the caller end sometimes crashed mimoLive.
Fixed: File recording name changed unexpectedly from show title to document file name.
Fixed: Play List source didn't loop when set to X-fade (regression).
Fixed: Video source with filters shows nice flowers for an blick of an eye when activated.
Fixed: Keyboard shortcuts with Num pad keys wheren't working.
Fixed: In the Live Streaming Output Destination renaming a custom Audio Mix was disabled in the context menu.
Fixed: Rearranging video sources or output destinations was difficult because the autoscrolling was to erratic.
Fixed: UI glitches on macOS 11 Big Sur.
Fixed: iPhone Demo 2D layer didn't rotate the iPhone-X graphic.
Fixed: There was a memory leak when closing a document containing a Web Browser Capture Source.
Fixed: Working with Audio Only layer fades could bring mimoLive to a hold.
Video Input Sources
Cameras: Thunderbolt, USB, HDMI, SDI SD/HD, NDI
USB connected iOS Devices (via App mimoCam)
Network connected iOS Devices (via App mimoLive Reporter)
Screen recording
IP Cameras
Apple Syphon Technology
3rd party applications via NDI 4
Remote Video Call (mimoCall) from any supported browser
Audio Sources
Cameras: Thunderbolt, USB, HDMI, SDI SD/HD, NDI
iOS Devices USB (via App mimoCam)
iOS Devices Cellular/WiFi (via App mimoLive Reporter)
Mic In / Line in
HardwareOSCapture Cards
PCIe
Thunderbold
USB 3.0
Blackmagic Design Decklink
External Video SwitcherSoftware: mimoLive
Live switching video sources
Transitions
Lower Thirds
Chroma Keying, Green Screen
Picture-in-Picture
Mix Audio Inputs
Sports Layer
Live Scoreboards
Instant Replay
Social Media Integrations
mimoLive Remote – Control switcher & graphics from your iPhone, iPad, or even from any browser.
Live Streaming
Facebook live
YouTube Live
Boxcast.com
Periscope
Custom RTMP
Record to Disk
Recording of the final program output
Separate file recording of every audio and/or video input
Output
HDMI / NDI
Virtual Camera
2nd mimoLive Project using Syphon Technology
3rd party software using Syphon Technology
Playout
SDI Playout fill
SDI Playout Key