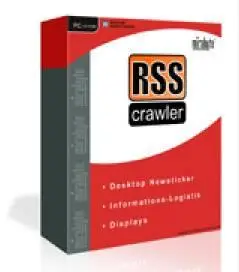 RSScrawler ver. 2.0.3 Build 163 | 1,06 Mb | Windows OS
RSScrawler is a novel desktop newsticker solution that allows you to display your favorite RSS news feeds in the same manner as those news ticker bars known from various TV stations. Be always up-to-date and never miss any breaking news or critical information!
RSS is shorthand for "Really Simple Syndication" and refers to an XML standard that allows a simple and free on demand syndication of news sources such as news headlines, financial data, weather data, blogs and custom data streams over the Internet.
RSScrawler is a special type of feed reader that can display your favorite RSS news feeds on a flicker-free ticker bar right on your Windows Desktop. This kind of news ticker bar is well known from many TV stations and is now also available for your computer, of course fully customizable!
Desktop News Ticker
Display your favorite RSS feeds as ticker bar(s) flicker-free on your Windows Desktop and never again miss any breaking news or critical information. Because RSScrawler exclusively allocates a small area of the Windows Desktop, the ticker bars cannot be hidden or overlapped by windows from other applications. You can choose from a tremendous number of freely available RSS feeds, also from mainstream news sources such as New York Times or Yahoo and many, many others. RSScrawler supports all established RSS formats such as RSS, RDF, Atom and even Podcasts (both, audio and video).
Eye-Catcher and Live News Source for Public Displays
By settings up a TFT or plasma screen in a show case, a passage, a hotel lobby or a fair booth and running an appealing Power Point show on it, you can easily catch the interest of bypassing visitors for your company or products. But really interesting is the idea of displaying additional live data or news from the Internet on your screens. A travel agency for example can display live weather data such as air or water temperatures for free with RSScrawler, perfectly matching to the displayed travel destinations that are advertised in the Power Point show.
Instant Notifications, Enterprise RSS and Information Logistics
Today's companies with many employees face the problem of deploying critical information just in time to the right persons. So how can employees be informed efficiently and just in time? Traditional ways such as an Intranet platform have the problem that this information source is not queried regularly be all employees. E-mails and instant messaging applications disturb the normal workflow in a massive way and reduce the performance of an employee since popup windows and alerts appear all the time on the screen. RSScrawler is the perfect solution for this problem; the ticker bar is permanently visible on the screen but does not detract the employee from the normal work. Though important information can be displayed in the ticker bar and is visible to everyone. Highlighting of extremely important news items with a different color is a very useful feature that only RSScrawler offers for this kind of use case. Thanks to RSScrawler, no important information is overlooked, e.g. in helpdesks, call centers and other departments of your company. And with RSS as backbone technology you rely on an open and widely used standard that proprietary solutions do not support.