Catalog your DVDs automatically, download director, cast and crew lists, cover image, etc…
Add DVDs to your database by just typing the movie titles or typing/scanning the DVD barcodes.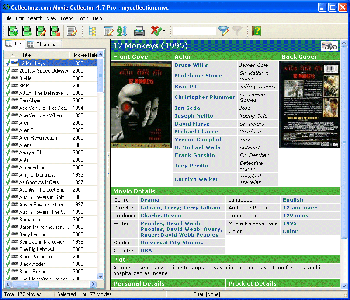 Features
Adding DVDs to the database
* Add DVDs by:
o Typing the movie title
o By typing its barcode or scanning it with a barcode scanner (works great for region 1 and 2 DVDs)
* Get data from multiple sources:
o Collectorz.com Movie Database
o IMDB
o Amazon US
o Amazon UK
o Amazon CA
o Amazon DE
o Amazon FR
o Amazon JP
o Several online DVD shops
* Download cover images automatically from the internet or use the built-in TWAIN scanner support to "acquire" the cover images directly into the database
* Add Movie Manually
* Add using the step-by-step Add Wizard or the flexible Advanced Mode
* Unlimited number of movies
* After adding items, you can use the Edit screens to edit the data to your own liking and add personal data (e.g. purchase info, or personal notes)
* Use the Edit Multiple data to modify multiple records in one go
Available data fields
* Main: title, edition, cast, genre, format, series, release date, running time, collection status
* Cover images: front and back
* Extra details: DVD region, subtitels, audio tracks, screen ratio, number of disks, packaging, barcode
* Crew lists, including director, producer, writer, musician and photographer
* Extra DVD features: scene selection, interactive menus, cast interviews etc.
* Personal details: purchase date/price/store, owner, location, rating, notes
* User defined fields: 2 text fields, 2 picklist fields, 2 user definable credit "roles"
* All fields can be renamed, e.g. to your own language
Viewing, searching and sorting
* View your collection as a list with multiple columns or by cover image in the Images View
* Sort on any field, or on multiple fields
* Configurable lists, choose which fields to show as columns
* Automatically group movies in folders, e.g. by Director or Genre
* Skinnable Details View, use one of the included skins or download more user-created skins from our Templates page
* Quick Search, for finding movies that contain the text you type, in any field
* Filter feature:
o Search in specific fields
o Search in multiple fields in one search
o Use AND or OR to combine filter conditions
o Use NOT to show all items EXCEPT the filter results
* Statistics screen, showing a graphical chart with bars per actor, director, genre, format, etc…
Printing
* Print lists of all movies in the database, you can choose which fields to show as columns and which field to sort the list on.
* Print one movie per page with all details, including the cast and crew list and the cover images (PRO only)
* Print several albums per page, including front cover image and main fields (PRO only)
* More user-created print layout templates can be downloaded from the Templates page (PRO only)
* Print a selection of movies, e.g. the result of a search
Exporting (PRO only)
* Export to the Notes section of your iPod, so that you always have your DVD list with you.
* Export to HTML, for putting your collection on your website
* Export to Text (e.g. CSV), for using your data in other programs like Excel
* Export to XML
* Export to List Pro, for using your data on your Palm or PocketPC
Loan Manager (PRO only)
* Track which DVDs you loaned and to who
* Track Loan Date, Due Date and actual Return Date
* Add extra notes for each loan
* View all Loaned items, all Overdue items or entire loan history