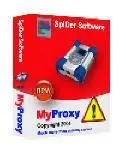 MyProxy ver. 7.57 | 1,61 Mb | Windows OS
Myproxy helps dramatically accelerate your internet connection, save your Internet costs and make your web surfing more enjoyable. In order to achieve these targets the whole sequence of functions is implemented in this software: ad stopper, pop up blocker, caching, money and traffic records, internet connection speed meter, integrated dialer, sharing dialup connection between other computers of your LAN.
MyProxy works as a proxy-server between your Internet browser and your Internet Service Provider (ISP). So all your internet requests go through it. Such an approach allows not to depend on the type of installed Internet browser. You just need to install the programme. MyProxy will care about the rest.
MyProxy allows you to optimize your Web connection (Internet speed accelerator). Browse the Internet without having to deal with ad banners and pop-up ads (ad destroyer and popup blocker). Keep track of how much traffic and money you have spent.