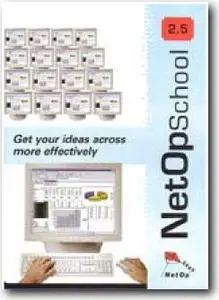 NetOp School is a highly acclaimed software solution designed to make computer-based teaching more effective. Using advanced remote-control technology, NetOp School allows teachers to perform online virtually all the things they can in a traditional class setting.
With this program you can instruct, monitor and assist students on their PCs without moving from yours. What's more, NetOp School grants all students a front-row seat and the chance to gain hands-on experience. The program is currently used in more than 50 countries.
Designed by training professionals, NetOp School combines unsurpassed flexibility with intuitive security features. The program requires no prior experience of PC-based training and its impressive remote-control functionality opens up exciting possibilities for distance learning and virtual classrooms.
What's new in NetOp School 5.0:
NetOp School 5.0 has been updated to include several important new features for long-distance teaching, and networked classroom teaching and management.
Live monitoring
- NetOp School 5.0 lets you monitor which applications and sites each students is presently using. All to ensure that your teaching is as rewarding and effective as possible.
Intelligent scoreboard
- Designing tests is easier than ever before with an intelligent scoreboard feature that allows you to dynamically change the weight and passing grade requirements for each question.
Offline preparation
- By copying the Teacher module in NetOp School to an USB drive, teachers can now prepare for class offline, with no need for a home installation.
Profiles
- A differentiated and leveled protection of settings ensures that each teacher has the right tools for the job.