NomadFactory Limiting Amplifier LM-662 VST RTAS 1.1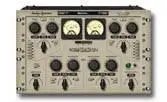 NomadFactory Limiting Amplifier LM-662 VST RTAS 1.1 | Win32 |Size: 5.78 MB
The Nomad Factory Limiting Amplifier LM-662 is a recreation of the classic Fairchild 670 limiter. When using the LM-662, music and instruments reacts the same as a Fairchild 670 does. The Nomad Factory LM-662 is built to be a new classic by adding that vintage warmth and realism to the most demanding studio tracks.
Features:
* High quality processing
* Up to 192kHz sample rates supported
* Automate any control.
* Set of factory presets.
* Authorize Disk (Challenge/Response)
* RTAS, AU, VST
Rapidshare

http://rapidshare.de/files/36349464/NmdFctryLmtngAmpLM662VSTRTASv11.rar.html
No Password
Best regards,
WebGurru