NomadFactory Program Equalizer EQP-4 VST RTAS 1.1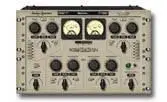 NomadFactory Program Equalizer EQP-4 VST RTAS 1.1 | Win32 |Size: 5.93 MB
The Nomad Factory Program Equalizer EQP-4 is a full range stereo channel unit, featuring low and high cut, low and high frequency boost and attenuation (shelving or peaking) as well as two overlapping bands of equalization. The two mid-range frequency sections has variable bandwidth, boost/attenuation (peaking) and frequency selector.
Features:
* High quality processing
* Up to 192kHz sample rates supported
* Automate any control.
* Set of factory presets.
* Authorize Disk (Challenge/Response)
* RTAS, AU, VST
Rapidshare

http://rapidshare.de/files/36349699/NmdFctryPrgrmEqulzrEQP4VSTRTASv11.rar.html
No Password
Best regards,
WebGurru