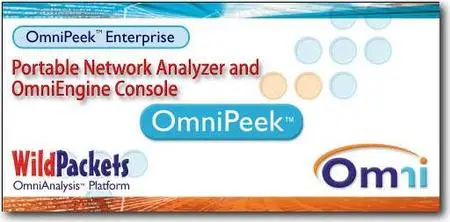 WildPackets OmniPeek Enterprise with Enhanced Voice Option v4.0 - combines all of the features of the OmniPeek product line in one product, including support for local captures from multiple interfaces and connections to an unlimited number of OmniEngines. It also supports data collection from any network topology, including Gigabit networks, WAN links and local matrix switches.
OmniPeek Enterprise is ideal for IT organizations responsible for network analysis and network services SLAs for the entire organization. A license of OmniPeek Enterprise should be considered for each location that will be supported by a network engineering professional. OmniPeek Enterprise also supports the Enhanced Voice Option.
Real-time VoIP Media Analysis:
- The VoIP Media view provides unique real-time VoIP troubleshooting and call drill-down capabilities, such as extensive select-related and parameter filtering capabilities that lead to faster problem identification and resolution. It offers complete, real-time VoIP Media analytics to verify call quality using R-Factor and MOS Score measurements.
Real-time Application Analysis:
- The Omni Expert collects network traffic into conversations. OmniPeek is able to aggregate these conversations by application and rate user satisfaction.
Visual Expert:
- Visual Expert includes a wealth of accessible tools to perform detailed analysis of conversation flows. These include the Packet Visualizer which shows the interactive requests and responses between the client and the server, payload reconstruction which can show the contents of the flow, a wide range of new conversation-oriented graphs including tcptrace.
Real-Time Expert Analysis:
- OmniPeek displays Expert System diagnoses by conversation pair, so you can instantly identify where problems are occurring on the network. Other companies' analyzers hide this information, listing their alarms by OSI layer. The Expert EventFinder in OmniPeek provides descriptions, and possible causes and remedies for each of the problem conditions the Expert identifies. The Network Policy Violation Detection allows the user to create, edit, save and reload named descriptions of a particular network-its participants and their expected behavior-for the Expert to use in detecting Network Policy violation events.
Expert Mapping:
- The OmniPeek Expert Peer Map shows all communica-ting nodes within your network and is drawn as a vertically-oriented ellipse, able to grow to the size necessary. Reading the Peer Map is easy; the thicker the line between nodes, the greater the traffic; the bigger the dot, the more traffic through that node. The number of nodes displayed can also be limited to the busiest and/or active nodes, or to any OmniPeek filters that may be in use.
Wireless Network Security - WPA/PSK Support: - In addition to WEP (Wired Equivalent Privacy) support, OmniPeek allows users to specify the WPA (Wi-Fi Protected Access) pre-shared key set for their network now. This means that OmniPeek will decode and decrypt an encrypted packet with your user-defined WPA keys, allowing application layer analysis.
On-the-Fly Filters:
- You shouldn't have to stop your analysis to change what you're looking at it. OmniPeek enables you to create filters and apply them immediately.
Global Real-Time Troubleshooting: - Through the OmniPeek interface, OmniAnalysis extends real-time troubleshooting to network segments around the world, delivering expert network analysis, detailed node, protocol, and network summary statistics, and even packet decoding, on multiple segments, by multiple users, in real time.
Enhanced Voice Option:
-WildPackets Enhanced Voice Option – provides users with the visibility and analysis they need in order to keep VoIP applications and non-voice applications running optimally on the network. Through the Enhanced Voice Option, users gain access to a wealth of detailed call quality statistics, graphical representations of the voice traffic and detailed diagnostic information. Specific signaling and call playback capabilities complete the enhanced VoIP analysis capabilities.
Features and Benefits:
Real-Time Troubleshooting & VoIP Call Summary: - OmniPeek Enterprise with Enhanced Voice Option is the only network analyzer offering Ethernet, Wireless, Gigabit, WAN, and VoIP diagnostics in real-time. The Expert view provides in-depth analysis of latency, throughput, and numerous network problems in a conversation-centered display. Many of the test elements have user-defined settings and thresholds, allowing you to fine-tune the Expert System to suit your network environment.
VoIP Signaling Analysis:
- OmniPeek Enterprise with Enhanced Voice Option supports multiple VoIP signaling protocols including SIP, H.323, MGCP, Megaco, SCCP (Skinny v3.0.3), NCS, TGCP, SIPT, C-SIP and more. OmniPeek Enterprise with Enhanced Voice Option associates all the signaling (including RTCP status reports) and voice streams (RTP) on a per call basis and provides a flow of the signaling messages and endpoints that participate in the call. This includes measuring call setup durations and providing a Call Detail Record (CDR) for each call.
Media Plane Analysis:
- The media plane analysis looks at the packet-level details of RTP and RTCP streams, and evaluates packet inter-arrival time, variation, packet loss, jitter and other parameters. Further, OmniPeek Enterprise with Enhanced Voice Option identifies packets that cause problems like duplicate packets and out of sequence packets. OmniPeek Enterprise with Enhanced Voice Option also provides non-intrusive voice quality monitoring by evaluating Mean Opinion Score (passive MOS) in real-time (based on the ITU standard).
VoIP Reports and Network Statistics:
- OmniPeek Enterprise with Enhanced Voice Option aggregates statistics and measurements of all active sessions to give a complete picture of the VoIP network status. OmniPeek Enterprise with Enhanced Voice Option provides the number of opened calls per signaling type, number of opened media channels and the network throughput of the RTP, RTCP and signaling links. It also reports statistics on jitter, packet loss, and bandwidth.
Subjective VoIP Quality- Variable Jitter Buffer Playback:
- In addition to objective VoIP measurements, OmniPeek Enterprise with Enhanced Voice Option enables users to evaluate voice quality subjectively by using the call playback feature. This feature also allows users to vary the size of the jitter buffer. For instance, when capturing VoIP close to the listener, one can determine if a lower jitter buffer and thus lower delay in delivering voice to the handset, still delivers an acceptable level of quality.
Passive MOS, R-Factor, and RTD Measurements:
- OmniPeek Enterprise with Enhanced Voice Option provides voice quality measurement over live calls for Passive MOS, R-Factor, and RTD.