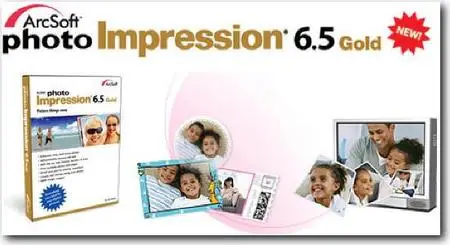 ArcSoft PhotoImpression ver. 6.5.0.95 Gold Retail | 63 Mb | Windows OS
ArcSoft PhotoImpression combining powerful media mana-gement functionality with Photo editing and creativity in an experience that's ideal for a wide range of users. Whether a beginner who's looking for an easy way to organize, print and share their photos, or a photo maestro who wants a high-performance media manager with creative functionalities, PhotoImpression 6 is a feature-packed program that complements their photo work with a lot of artistic touch!
Stay Organized Without Even Trying
- Even if your digital media is scattered all over your computer, PhotoImpression smartly and automa-tically organizes it all for you. The Calendar Browser lets you view files by date. The Import History Browser organizes files based on when they were copied to your computer. The Folder Browser gives you a Windows-like view. The Stack feature lets you stack your photos into virtual piles.
Enhance Photos Step-by-Step
- The built-in Easy Fix Wizard makes photo enhancement a step-by-step process that users of all levels can appreciate. In just seconds, bad photos become pictures worth printing. Edit options include: Straighten, Crop, Enhance, Sharpen, Fix Red-Eye and Improve Color.
Push Pixels to New Places
- When you're ready to take your photo editing beyond the basics, a set of advanced tools gives you pixel-level control. The Heal and Clone tools make skin blemishes and distracting objects magically disappear. The Clipboard lets you copy and paste elements from one photo to another.
Have Fun with Vector Graphics
- A handful of vector graphic tools let you apply high-quality text and artwork to your pictures. The program comes with frames, transparent edges, speech balloons, clipart, greetings and more.
Create Dynamic Slide Shows
- Turn your favorite snapshots and MP3 soundtracks into dazzling picture slideshows complete with pan and zoom effects and slide transitions. Save your shows as screensavers, video files and self-running .exe files ready to burn to disc and share with family and friends.
Work with RAW and 48-bit Image Files
- Currently supports Canon, Nikon, Panasonic, and Adobe RAW files (browse, open, email, print). Also has 48-bit image file support with basic editing (crop, brightness/contrast).
Tag and Rate Photos
- Applying rating and tag icons to your media keeps things organized and easy to find. More than one dozen useful tag icons are included (ie. family, friends, pet, holiday, birthday). You can even create custom tag icons using your own pictures.
Play Music and Video Back-to-Back - The built-in Media Player lets you enjoy your video and music files without having to launch another program. What's more, the Media Player will even play video and music files back to back, automatically.
Key Features:
• Calendar browser organizes media files by date taken.
• Easy-Fix wizard lets users make quick fixes to their photos.
• Full-featured photo editing module includes advanced enhancement controls.
• Built-in Media Player provides convenient access to music and video.
• Media file tagging for fast and effective photo organization and searching.
• Powerful Photo Search feature lets users find photos that look 'the same'.
• Batch processing makes certain tedious processes quick and easy.
• Photo Slide Show include options for adding music and transitions.
• Easy Print module makes at-home photo printing fast and trouble-free.
• Vector-based graphics and text provide high-quality creative enhance-ments.
• Photo email optimizer makes photo "email-friendly".
• Built-in DVD and CD archiving keep precious moments safe.